My kayak breezes over the surface of the aptly named "Clear Lake" in central Oregon. The lake bottom descends below me ten, twenty, thirty feet, yet I can still see features as though looking into an aquarium.
Each stroke of my paddle dips into the crystalline fluid and scoops out rounded orbs of glass-like liquid, I dip my hand into the water, the temperature is cold, somewhere around 40 degrees Fahrenheit. The lake is fed by mountain springs that course from deep within old lava flows; the water temperature stays a near constant throughout the year.
The sun had been hiding behind a cloud, but now bursts forth illuminating the lake. The clear water that surrounds me now becomes a turquoise pool. The green and the tan forested shoreline is reflected onto this gem-colored liquid. I cannot help but to stop paddling and just watch – immersed at the moment.
A number of Mallard ducks float next to my kayak, some are just a few feet away. One comes abreast to me and looks at me in the eye; he cocks his head as though wondering what kind of strange beast I might be. I can see his little legs moving underneath the water, churning like a miniature paddle wheel.
My kayak hugs a rocky shoreline; it is a jumbled and erratic wall that descends sharply into the water. This is the edge of an ancient lava flow that three millennia earlier was the outlet of a stream. As the water rose, a new lake was created, and the surrounding forest was submerged. The water temperature was so cold that decomposers could not survive and the original forest was preserved. Today, three-thousand years later, several dozen of the ancient trees from that forest remain upright and can be seen from the surface.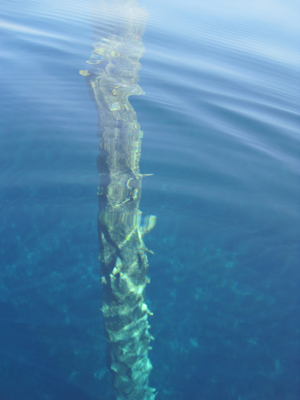 A large dark form starts to become visible in the water before my kayak. I stop paddling and the surface becomes undisturbed allowing the shape to come into focus, it is the column-like shape of one of the ancient trees. The trunk appears to be as big around as a dinner platter, and only just a couple of feet below my kayak. I try to gently tap the top of the trunk with my paddle, but I am unable to reach it. The water has played a trick on my eyes by making things appear closer than they really are. I peer down the trunk looking, fifty, sixty, possibly a hundred feet down to the bottom.
The only sounds are people laughing in the distance, and a gentle wind blowing through the trees.
There are no motorboats on Clear Lake, just human powered crafts.
Learn more:
http://www.linnparks.com/pages/parks/clearlake.html