Trip Report:
Volunteer Leader: Mark Hougardy | Group: Eugene-based Hiking Club | Dates: November 7, 2016 | Participants: 6 | Type: University of Oregon Archives Visit
On this sunny day in November, our small group spent several hours with the original writings, journals, and photographs of a true champion of nature – John B. Waldo.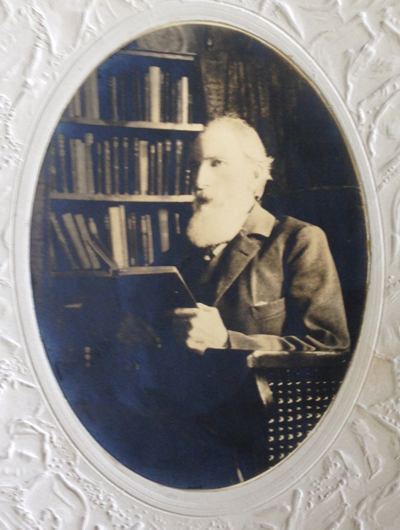 Waldo was an ardent conservationist, he's been referred to as the west's David Thoreau and even Oregon's John Muir. Waldo was known for venturing into the Cascades, often spending months at a time, and recording his findings of this dynamic and vibrant landscape.
Over the course of his life, Waldo worked as an explorer, legislator, and chief justice on the Oregon Supreme Court, all the time helping to preserve land in the Cascades. He envisioned a protected band of land along the crest of the Oregon Cascade Range that ran the entire length of Oregon. This goal became his personal mission.
On September 28, 1893, the Cascade Range Forest Reserve became a reality and 5 million acres were protected.
Today, we can experience his legacy in the protected lands and open spaces of the Cascades from Mount Hood south to the border with California, that include: Crater Lake National Park, Mt. Hood, Willamette, Umpqua, Rogue River national forests, and other public lands. And in the middle of this grand monument are the deep and pristine waters of Waldo Lake, named in his honor.
Curiously, little is written about Waldo. The judge was a philosophical and reflective person who did not directly seek publicity. But possibly this muted message is part of his larger voice – appreciating the beauty of Oregon is best experienced by hiking on the trails, exploring in the mountains, traveling in the wilderness, and experiencing the (as he wrote) "untrammeled nature and the free air." Discover Waldo's story for yourself. The University of Oregon archive is free to use – Knight Library, Paulson Reading Room.
Reference: John B. Waldo and William G. Steel: Forest Reserve Advocates for the Cascade Range of Oregon, Gerald W. Williams
Umpqua and Willamette National Forests
http://www.foresthistory.org/Publications/Books/Origins_National_Forests/sec21.htm
Here are just a few of the photos from his collection:

Waldo Lake, Camp Edith (circa approx. 1890)

Waldo Lake (circa approx. 1890)

Waldo Lake (circa approx. 1890)