A high point of summer is witnessing the Perseid meteor shower. Every year in mid-August these cosmic bits of dust and ice streak into the Earth's atmosphere giving a heavenly spectacle to those on the ground. These 'shooting stars' can be seen once every minute and are best seen away from city lights. This year provided an extra challenge because of smoke from forest fires in southern Oregon.
My family grabbed the camping gear and we made our way to the crest of the Cascades in hopes of clear views. Our first stop was at 7,400 feet; unfortunately smoke shrouded the sky and nearby mountains, viewing that evening was very limited.
The next day the winds shifted and skies were clearer. For the second night, we selected a lakeside view at about 5,500 feet. We found a quiet peninsula on the water – the sky theater was open before us and we had front row seats!

As the sun lowered on the horizon it passed behind a thick grey-brown wall of smoke from the forest fires. The pre-show sunset was visually stunning.

For 20 minutes everything around us had a red hue (shown), then the sun completely disappeared behind the wall of smoke. The sky darkened.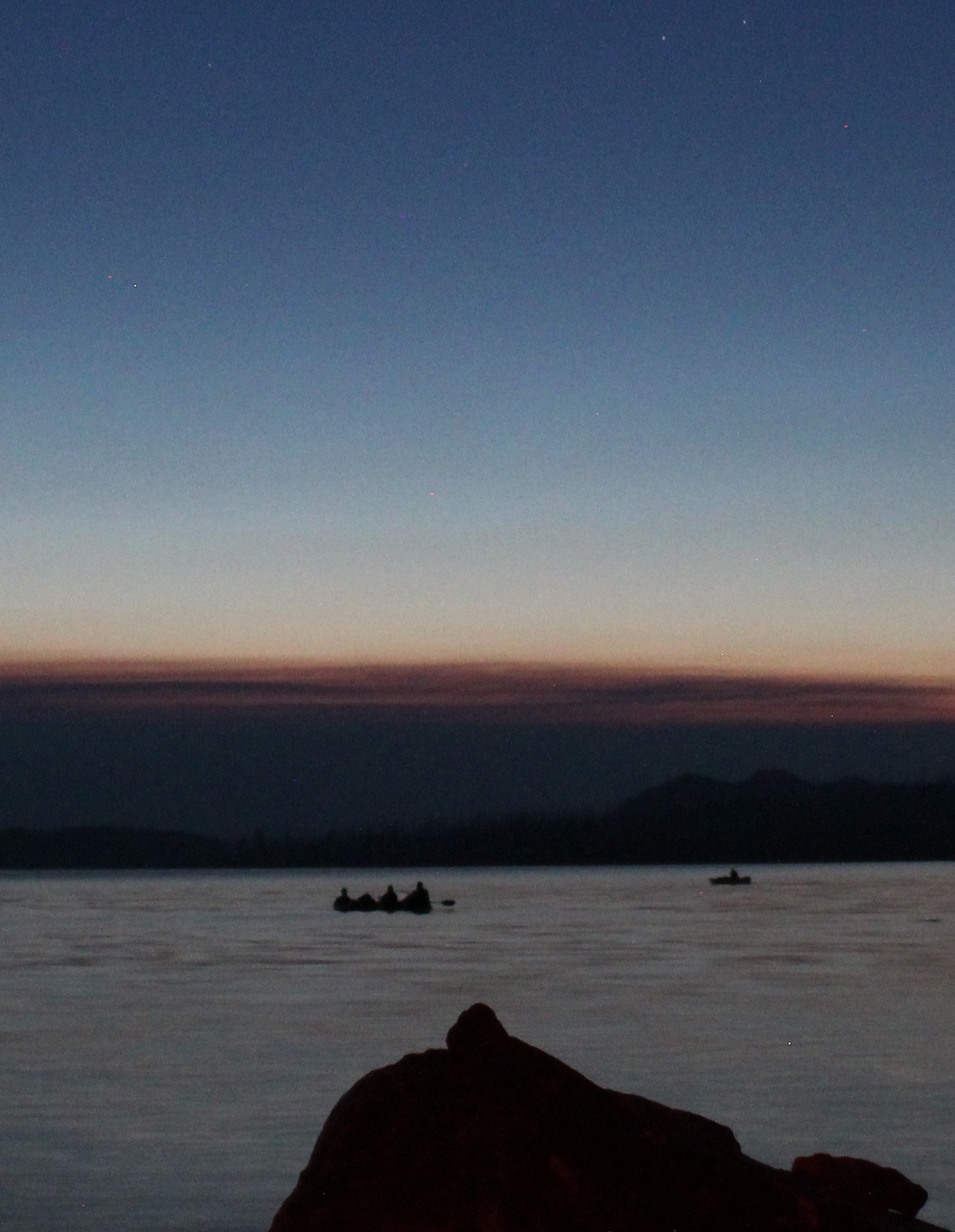 Along the shore were gatherings of families, hikers, and campers. On the lake, kayakers began to raft up (shown). Everyone was eager for that evening's performance. A voice from the water curiously asked if the smudge in the eastern sky was the Milky Way? We turned, behind us the great cross-section of our galaxy began to reveal itself. Someone shouted from the shore, "I saw one!" A wave of audible oohs and aahs was heard from the various groups of people who had seen a meteor streak across the sky.
We laid back on the smooth glacially-carved boulders that would be our theater seats for the evening, and for the next 3 hours were amazed by the variety of meteors that zipped across the heavenly stage; some meteors were micro-sized blips, others were graceful streaks, some dramatically required the length of the entire sky. At about midnight sleep was getting the better of us and we returned to our tents.
I tried to capture some of the Perseids with my camera, out of 80 photos that night this is the best I could accomplish.
Later that night I woke up and walked outside my tent where I could see the sky clearly. The Milky Way was overhead and amazingly bright. I shivered in the night's cool temperature while looking up. A streak appeared across the star field of the Milky Way; it was bright, then not, then bright again, it rotated about 8 times before disappearing. What an amazing night!