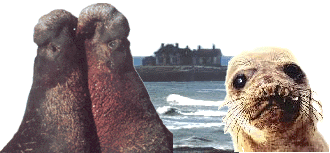 In the mid-1800s Elephant Seals were hunted for their oily blubber to light the lamps of San Francisco. But, within a few short decades, they were gone and thought to be extinct. Thanks to modern protections a small population has returned from the edge of extinction to reclaim their former territory on the California coast. In the wintertime at Año Nuevo hundreds of seals, from newborns, pregnant females and gigantic males congregate and we get to see them up close.
The seals gain their name from the elephantine noses possessed by the males.
The walking trips to see the seals are no more than 2 miles in length and about 1.5 to 2 hours in duration. Much of the terrain is loose sand. The hike begins with a thirty-minute walk from the Visitor's Center to the tour staging area. Last chance latrine facilities are available. Here we will be joined by a docent who will guide us into the Wildlife Protection Area. Remember, bulls can move 20 feet, even in loose sand, in 2.5 seconds! You are requested to stay at least 40 feet away from the seals at all times.
Meet at the Sanborn Park Hostel on Sunday, January 10, BY 9 a.m. to determine carpool arrangements. Reservations are required. The fee is $10.00 per person, children under 3 are free. Parking is available at the reserve on a per vehicle ($5) basis and must be paid at the entrance station. Picnic tables are located near the Visitor's Center for lunch.
Año Nuevo is roughly an hour and fifteen-minute drive (55 miles) from the hostel. After visiting the reserve, weather permitting, we will continue north along Hwy 1 to explore the wildlife areas and tidepools between Pigeon Point Lighthouse and Montara. Plan to eat before entering the reserve as we will be hiking during lunch time. Picnic tables are available near the Visitors Center.
The trip goes rain or shine. Recommended equipment/gear for this trip: rain jacket/clothes, headband/ear band, camera, comfortable sports or hiking shoes, a second pair of shoes to keep in the car for return, lunch, day pack with water. Wear layered clothes and come prepared for any kind of weather. Please note the reserve does not allow pets, smoking, food, gum chewing or umbrellas in the wildlife protection area.
Organization: Sanborn Park Hostel
Trip Rating: Easy
Date: January 10, 1999
Trip Leader: Mark Hougardy
Participants: 14