The Cape Perpetua Scenic Area on Oregon's coast is stunning.
Trip Report:
Volunteer Leader: Mark Hougardy | Organization: Eugene-based Hiking Club | Date: August 2018 | Duration: 2 days | Participants: 8 | Type: car camping, hiking, and kayaking
Our group was fortunate as the weather was surprisingly mild and there was little wind. We spent much of the morning exploring tide pools and beachcombing during low tide. The Cape's forest offered us the chance to stand at the base of the 200-foot tall and 500-year old Sitka Spruce. These amazing trees grow in a four-mile-wide zone along the coast from northern California to Kodiak Island in Alaska. Around lunchtime, we pitched our tents at a nearby campground and had a quick bite to eat. Our two tiny campsites proved challenging with our collection of tents. In the late afternoon, during high tide, we appreciated the coast's craggy beauty. A favorite is Spouting Horn, where wave action forces water into a small sea cave and through a hole at the top creating a sizeable plume. Thor's Well, a large sinkhole on the shoreline, water cascades into what appears to be an unearthly entrance to the underworld. In the evening, some of us climbed the 700-foot cape and enjoyed awe-inspiring views of the rocky shoreline below. Standing inside the historic Civilian Conservation Corps shelter, we witnessed a brief sunset. That day we saw a whale, gulls, cormorants, sea lions, a myriad of tide pool creatures, turkey vultures, and ravens.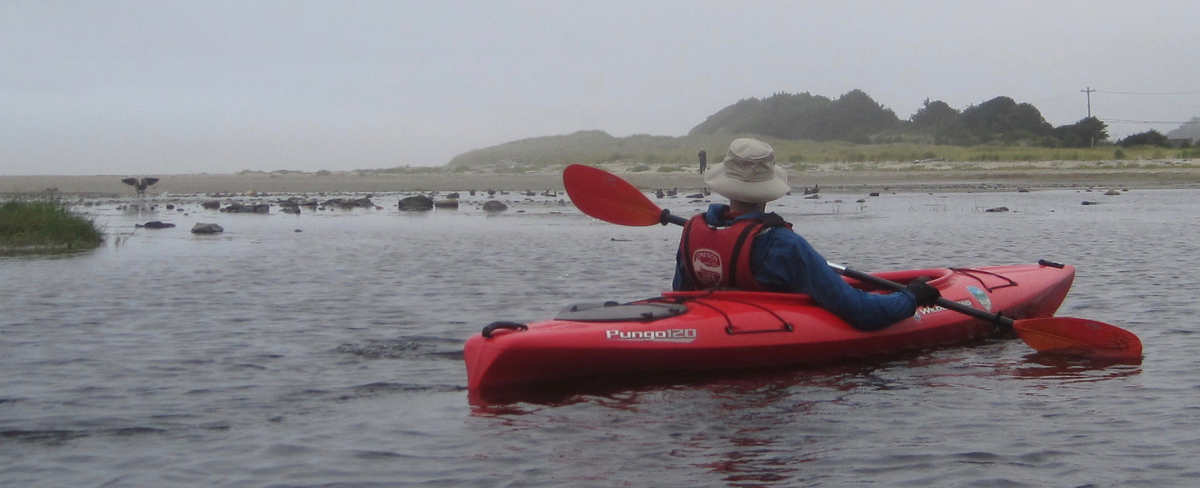 We woke with the sun and drove to Brian Booth State Park where we participated in a kayaking trip along Beaver Creek. This interpretive tour is offered as a service by Oregon State Parks. Beaver Creek is a freshwater estuary and is prime habitat for Coho salmon, cutthroat trout, winter steelhead, and waterfowl. We finished our three-mile paddle about noon and had a great time. We had seen ducks, nutria (invasive), a family of river otters, kingfishers, a young bald eagle, swallow, cranes, blue herons, a green heron, Canada geese, merganser, and a red-tailed hawk. As we pulled our kayaks from the water there was a nearby splash, a river otter had been playfully observing at us. Across the creek, a bald eagle surveyed our group. That afternoon we drove south to Yachats and enjoyed a tasty lunch before heading home.