Trip Report:
Volunteer Leader: Mark Hougardy | Organization: Eugene-based Hiking Club | Dates: September 10, 2017, | Participants: 7 | Type: Day hike and wayfinding
In Oregon's forested Cascade Range an old tree stands guard over a forgotten story. The story is about an explorer in the late 1800s named Judge John Breckenridge Waldo, and his intrepid spirit was that of John Muir and Henry David Thoreau. Judge Waldo is the unsung grandfather of Oregon's protected lands. It is because of his perseverance that six national forests, Crater Lake National Park, and over a dozen wilderness areas exist today. The tree knew that few remembered Waldo's name or even celebrate his achievements. Yet, the tree endures and will share a secret to those who seek Waldo's legacy.
The tall perpendicular woods and glassy mountain lake made seeing this old tree even more intoxicating. A year earlier while researching Waldo I spied a grainy black and white photo. The picture was snapped in 1890; it revealed a couple of trees and a canoe by a lake with the handwritten text, "Camp Edith, Waldo Lake." An interesting yet unremarkable image, except that Camp Edith wasn't referenced on any map. After a year of research, my fellow explorers and I stood before those words carved into the tree's hardwood — it was Waldo's "lost" campsite.
Our morning started with sunlight enriching the blue and turquoise waters of Waldo Lake. The radiant vista poured 5-miles into the distance and an additional 2 miles at breadth. As the sun rose further into the sky it revealed depths of 60 feet or more in the crystalline-like liquid.
From 1877 to 1907 Waldo extensively explored and chronicled the "untrammeled nature" of Oregon's Cascades. He believed that modern life had "narrowing tendencies" on a person and that wilderness allowed difficulties to "be perceived and corrected, and the spirit enlarged and strengthened." Waldo was a reflective man who did not seek publicity. Rather, he quietly and diligently advanced his vision: a 300-mile long protected swath along Oregon's mountainous crest from the Columbia Gorge to the California border. Upon returning from his expeditions he spent countless hours increasing public awareness through letter writing and using his resources as a State Legislator and Chief Justice of Oregon's Supreme Court to advocate for preservation.
After Waldo's death in 1907, his writings went missing only to be rediscovered in the 1980s. The papers now reside in the archives at the University of Oregon. This is where I first saw the old photo of Camp Edith. When I inquired with seasoned hikers, campers, and old-timers, they had not heard of the camp. Finally, I met an aged flower child that loved to backpack. Surprisingly, he knew about Camp Edith but only revealed, "When you find 'the tree,' you'll be there."
The following winter I jumped into reading a rare 500-page copy of Waldo's transcribed diary. During his treks, he traveled for months at a time to nourish his insatiable wanderlust and love of the Cascades. But like many travelers, he was often homesick. To lessen the loneliness he christened a favorite camping site in honor of his daughter, Edith. A colleague blazed the camp's name into a tree trunk.
The snow had melted in the mountains and some ground reconnaissance was needed. I enlisted several members from a local hiking group to join me at Waldo Lake. We walked into the forest to find "the tree" provisioned with a photo from 1890, a few telling diary entries, and the mystifying advice of an old hippie.
Progress was slow as we bushwhacked through the woodlands, crossed marshy fields, and scrambled over downed logs. We were close to calling it a day when a member of our team let out a joyous shout. Thirteen decades of bark growth had covered the blaze's perimeter, but the inscription was legible: "Camp Edith, Waldo Lake."
We had unearthed a sumptuous moment of discovery.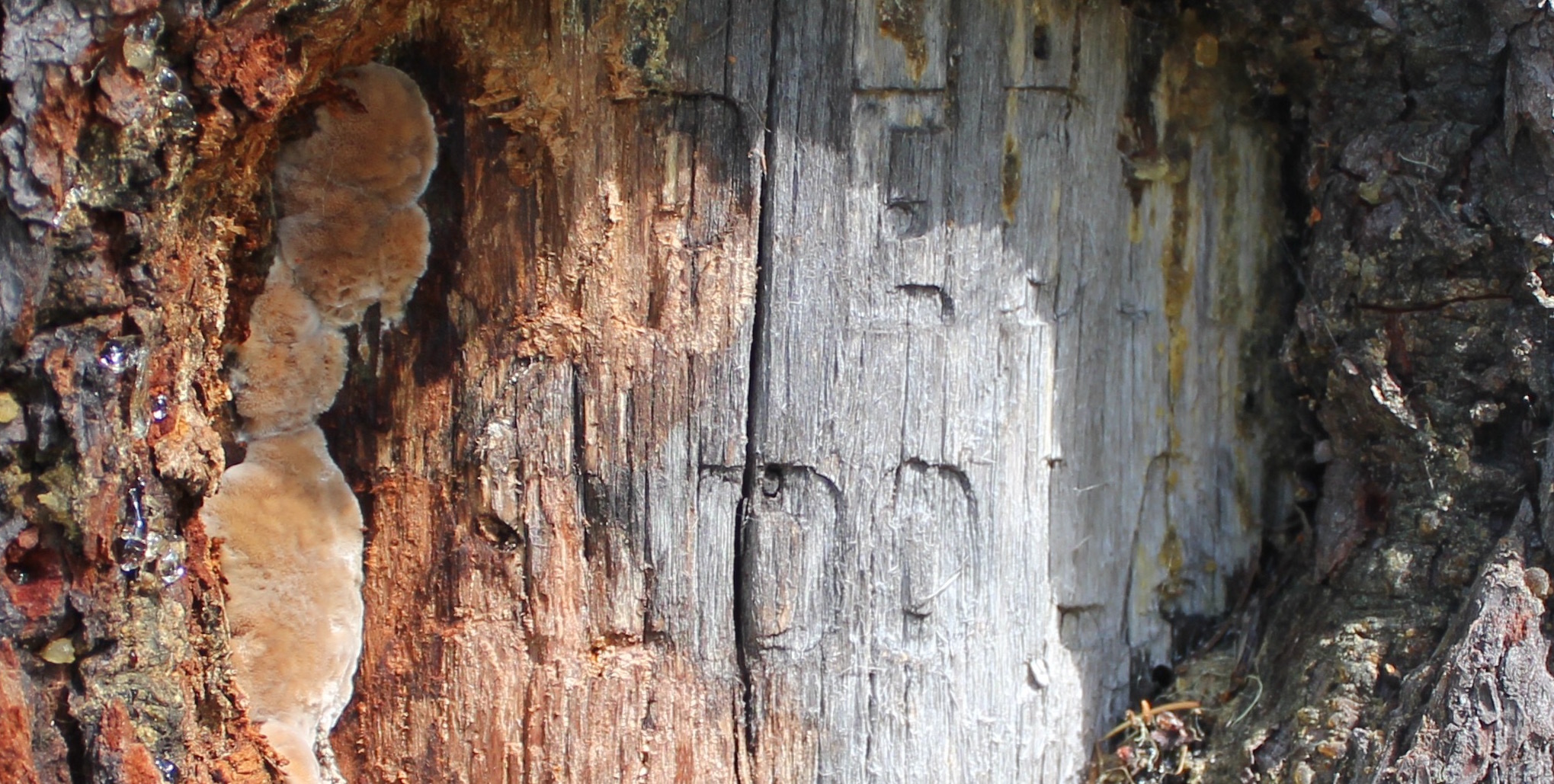 An excerpt from one of Waldo's 1890 letters was appropriate to read-
"The lake stretches away up to the North; crags and peaks tower above us. It is a splendid scene – this source of rivers and cities, hid away, like pure trains of thought from vulgar observation – in the deep bosom of the wilderness buried. Camp Edith sends you greeting – greeting to Edith from 'Papa's Lake.'"
We departed Camp Edith carrying Waldo's story with us — our spirits nourished and renewed.