Shown: Two vegan "small plate" dishes enjoyed at an Indian restaurant while on tour; Gobi Manchurian – fried cauliflower tossed in a sweet and sour sauce, and Samosa Chaat – two savory bean and pea pastries topped with a garbanzo bean curry and house chutneys.
As a trip leader, I love creating meaningful experiences for participants — especially through food. I'm also a vegan who loves to travel and engage new places through local tastes. For me, tour directing and eating vegan are complimentary flavors.
That's why I'm surprised when fellow tour directors express derision towards vegans. These sentiments were summed up at a recent guide training when a group presented their hot topics titled, VEGAN ISSUES.  The frustration was perplexing because to be blunt, vegans aren't problems on tour. As with any interpretive travel what is required is a better knowledge of the audience. Here's seven survival tips for tour directors dealing with "vegan issues."
1. Why are vegans, vegan? And, what is plant-based?
Vegans eat the same food as everyone else, except it's not made from animals. Vegans value compassion. They seek to eliminate, as much as practical and possible, the use of and exploitation of animals in their everyday lives.  They understand the most immediate way to enact compassion is to control what they put on their plate. Another group to know about are travelers who are plant-based; they eat plants solely for dietary or health benefits. Veganism takes plant-based a step further and includes the ethical component.

2. Why are vegans quiet?
Vegans are often stereotyped as being quiet. Some can be. Many vegans tend to be reserved when traveling because they don't want to be derided. Here are some actual comments by professional-level tour directors about vegans:
"Why don't they eat like normal people?"
"If they can't eat normal food on a tour, they should be made to eat what the rest eat!"
"They seem smart, too bad they can't figure out what they're going to eat this week."
Is it any wonder a traveler might be quiet when a tour director's personal biases (yes, biases) are seeping into other communications? Trip leaders need to understand that everyone on their tour want to eat good-tasting, wholesome food. Vegans just want food without the animal or the hidden animal products.
3. Why are they vegan at home, but not while traveling?
I often hear trip leaders say, "Why are they vegan at home, but not while traveling?" At home, all of us can control ingredients, quantity, salt, oils, etc., but this can be very difficult for anyone during a week-long tour. Vegans have learned to be pros when it comes to ordering food selectively at restaurants to avoid hidden animal products, substituting side dishes, or supplementing their travel meals by visiting the store.  However, on tour, most of the pre-selected restaurants on an itinerary are solidly meat-centric.  When confronted with zero choices many vegan travelers just won't eat at all, others might order various side dishes to create something of a meal. Others might make a "what causes the least harm" decision. A few might substitute fish, though these are usually travelers who need to eat something (anything) at each meal to regulate blood sugar or taking medicine with food.

4. Why don't they eat the special vegan meal?
The biggest frustration I've heard from tour directors is that the specially prepared vegan meal rarely gets eaten. I can say without hesitation – 95% of the specially prepared vegan meals on tours are notoriously bad. These vegan meals might be made by well-intentioned kitchens, but staff often have no clue what vegans eat and the results can range from lackluster to frightful. If someone on tour is skipping meals, their basic needs are not being met.

5. What about vegans eating alternative meat on tours?
The target audience for alternative meat products aren't plant-eaters, the target audience are meat-eaters who want to reduce the amount of meat they are eating. To many vegans, alternative meat is junk food and should be eaten sparingly.

6. What do vegans eat?
Vegan food can be as diverse as a fresh salad or pizza. I like food that is unrefined or minimally refined and excludes or minimizes meat, dairy products, and eggs.  Vegan food can include apples, bananas, blueberries, oranges, strawberries, broccoli, carrots, cauliflower, kale, lettuce, potatoes, corn, green peas, winter squash, barley, millet, oats, quinoa, wheat berries, brown rice, black beans, chickpeas, lentils, pinto beans, walnuts, pumpkin seeds, tahini, almond butter, or even rice, soy, oat, almond, and cashew milk. The entire vegetable and fruit aisle at the store is vegan. A good part of the grain aisle and some of the bread aisle is vegan. Additionally, there are plant-based mayonnaise, cheeses and other sandwich condiments that taste like traditional products and are cost-effective. On the more recreation and social side, most french fries and beer are vegan. There's no shortage of plant-based foods or creative ways to eat vegan while on tour, here's a few: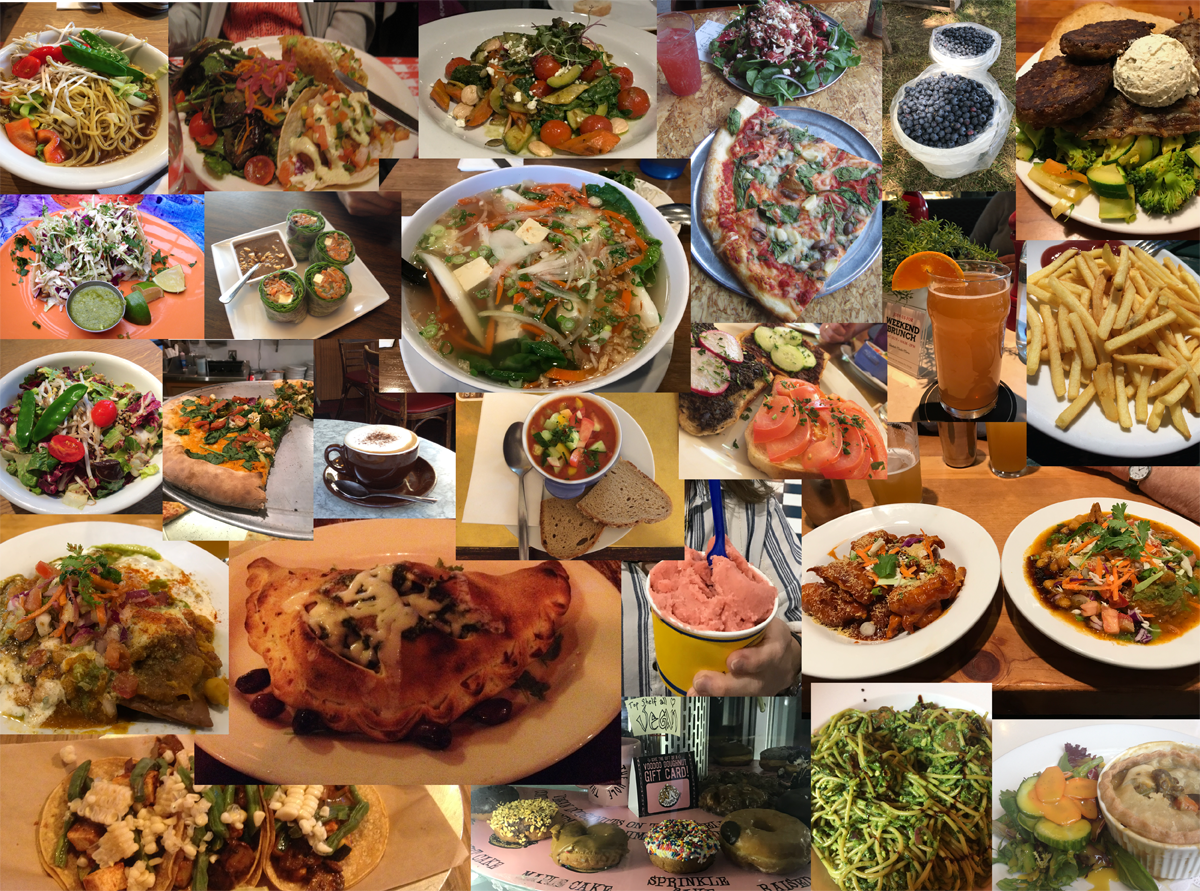 Shown: Some of the vegan meals, desserts, and snacks served on the tours and trips I've led.
7. How should I talk with a vegan on my tour?
Have a conversation with them as you would with anyone on your trip. Remember, vegans want to eat delicious food too, if they have a question about food it's originating from a place of compassion. Use compassion as a starting point in your own conversation with trip travelers. I try to set this tone in my pre-trip welcome letter, I explain that while our trip has made efforts to eat at places that offer a variety of foods some of the menus can be limited. I add that we will have an opportunity to stop by a local grocery store so all participants can supplement food, and grab something fresh and healthy if needed. At times when travelers explore a town on their own, I always find a local restaurant that offers a selection of vegan options and invite others to join me. I also communicate with the office about locating restaurants that are generally healthier. During the tour, I speak with the kitchen to see about suggestions if something can be substituted.
On a tour, everyone can experience new places through local tastes. It does requires some up-front communication with travelers about what to expect on a trip. It also requires some greater knowledge of your audience.
Note: The list of foods on #6 comes from Forks Over Knives