Eugene Walking Tours
SHORT WALKS IN A TOWN THAT IS A LITTLE NORTHWEST OF NORMAL
Eugene Free Tour – Coming Summer 2020
(dates & departure time/location will be announced in the coming weeks)
The walking tour begins downtown at 11 am. This 1-hour tour is a lighthearted introduction to Eugene's history and includes some revealing stories about why the town is a little northwest of normal. Along the way, we'll enjoy some of Eugene's colorful murals, learn about its past, where it might be going, and get some tips on restaurants, shopping, and nightlife! This is a FREE tour; just show up, reservations are not needed, no up-front payment is necessary. Restroom stops will be available along the way. We will end our trip downtown near Sizzle Pie Pizza and Voodoo Doughnuts, just a five-minute walk from where we started. If you liked the tour feel free to leave a tip at the end. Afterward, Mark will be happy to answer your questions about how you can best enjoy Eugene.
UO Duck Tale Stroll: Art, Scholars, & Rogues
The University of Oregon campus (home of the Oregon Ducks) includes a rich array of freestanding sculptures and artwork crafted into many of its historic buildings. Yet, within this rich cultural landscape hides stories of rugged pioneers, daring scholars, and desperate rogues. On our 1.5 hour walk, we will enjoy these artworks and uncover hidden duck tales.
Eugene Twilight Mural Wander
By day, Eugene's mural is colorful and vibrant. But at twilight, shadows gather to create new works of art. Street art often requires that visitors look into places they might otherwise overlook. On our twilight mural wander, we explore back alleys and locations the eye can dismiss on a daytime art walk.
Veg-Out Eugene
Enjoy a vegan/vegetarian breakfast, lunch, and dinner mixed in with options for hiking, museum visits, or exploring other sights in Eugene. We end the day at a local bakery with numerous and delicious desserts.
Wicked San Francisco Wander: Fear, Sex, & Gold
A WALKING VACATION TO EXPLORE SAN FRANCISCO and ITS WICKED HISTORY
San Francisco is often viewed as a place where a person can make a fortune, where an individual can craft their future, and where it's OK to be weird.
But, beneath the sidewalks, in unimpressive alleys, and among lonely buildings is a hidden San Francisco, a city born within a moment with the discovery of gold in 1848. The city's parents were not elites or idealist, but gritty prospectors, sailors, railroad workers, gamblers, ladies of the night, grifters, poets, and hustlers. It was a city forged in fear, sex, and gold.
Our interpretive walking trip explores how the city changed in three important ways. We'll see how fear directed at those considered "unfit" by society (poor, minorities, and women) reveals they are the true backbone of the city, how the censorship of sex led to modern freedoms, and how gold fever changed forms never really disappeared from this place.
Our walk will be covering much of the Barbary Coast Trail, an urban meandering trail where the morality of the Gold Rush was funneled through and onto the landscape.
Optional visits around the city are welcome: Alcatraz Island, Marina District, California Academy of Sciences, etc. Just let me know your interests in exploring, dining, and enjoying the city.
The trip will be through a Eugene-based hiking group; 2020 trip dates will be posted shortly.
Central Oregon's Outback: Volcanoes, Craters, & Caves
A MULTI-DAY WALKING & CAMPING VACATION EXPLORING of CENTRAL OREGON
Central Oregon has thousands of tales hidden in the rocks, beneath the trees, and along the trail. This topography is filled with colossal volcanic eruptions, ancient lakes, lava tubes, and those with an unyielding spirit.
At the heart of this landscape is the Newberry Volcano, a shield volcano that created massive lava flows that still impacts the area today.
We directly experience this unique area at the ground level with hikes, rafting trips, and local walks. We will even camp under the stars. The beautiful topography of central Oregon is as dynamic as the people and I'm eager to share this amazing landscape with you.
The trip will be through a Eugene-based hiking group; 2020 trip dates will be posted shortly.
REGIONAL TRIPS IN OREGON – COMING IN 2020
Timberline Lodge Afternoon: In the Presence of Giants
This beautiful and historic lodge is more than just a building; it is an embodiment of skills, love of country, and a desire for an individual's creation to be greater than the crafter. The stories of the people who built Timberline Lodge during the Great Depression are chiseled into the crafted joints and sewn into the fabric itself. In addition to learning more about this jewel located at the timberline of majestic Mount Hood, we explore some of the local lore, walk local trails, and enjoy a fabulous lunch. This trip is an additional option for other tours led by the trip leader.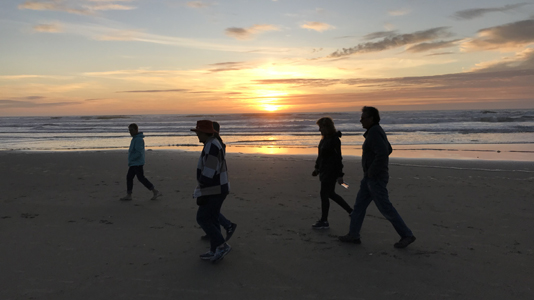 Oregon's Maritime Salty Saunter
Oregon's dramatic coast is filled with weathered landscapes, sandy beaches, and ghost forests. It is a landscape many generations old with inspiring and sometimes tearful stories; there is even rumored lost treasure. On our multi-day saunter through the region's maritime history we will look for whales, peer into tide pools, and will get our wet feet on the beach. We will hear from local storytellers, museum interpreters, and will dine on the region's delicious tastes. Plan to walk between 3 and 5 miles a day. The trip will be through a Eugene-based hiking group; 2020 trip dates will be posted shortly.
A Vegan Foodie's Rollick in Scandalous Portland
Portland, Oregon, is now home to swank eateries, posh coffee shops, and a lively urban scene, but at one time it was a wild seaport town with a lusty underworld where saloons numbered 1 for every 40 people! For decades, weathered sea captains swaggered into Portland's underworld and bartered in blood money for shanghaied recruits. Rotgut whiskey flowed freely, bordellos floated on the Willamette, votes could be bought for a pint of beer, murder was common, and corruption was a way of life. We will uncover some of these stories while munching our way through modern Portland's select restaurants.
As a tour director I help eduction travel organizations and businesses succeed in their programs, but don't take my word for it:
"Thank you so much for giving my grandchild and I an extraordinary memory. Very special." – Liz, New York
"Thank you for a great Road Scholar trip. We really enjoyed it!" – G, C, and A, Florida
"The Crater Lake and Bend Outdoor Adventure was beyond terrific. Mark led the group in activities that included exploring a lava tube cave, rafting some class 3 rapids, hiking up to 5 and 6 miles a day in some beautiful terrain, enjoying Crater Lake in a guided boat…He created an atmosphere that rates 5 stars!!" Ruth, North Carolina
"His organizational skills are very impressive; we packed a huge amount of learning and fun into one week. He even snuck in a nighttime walk near Crater Lake to a spring coming out of the mountain with a flock of little bats skimming around the pool inches from us. Loved it!"
"Mark led this group in an easy-going and positive manner. The program was fun and the educational benefits were high. The activities fostered a bonding between grandchild and grandparent as well as with the group as a whole. He had excellent suggestions for free-time activities and restaurants on our own. He prepared us well for what we were going to see and do." – Anonymous

"Thank you for all your help, kindness and consideration you gave to us on this trip. Truly enjoyed our adventure and the many wonderful places we visited – your stories and extra information has made Oregon extra memorable. All Best Wishes." Connie, Minnesota.
"Great, fabulous trip!!!" – Cecil, Ron, & Ruth