Little did we know that in the perceived safety of a parking lot at Kings Canyon National Park that an accident was about to occur.
Possibly we were tired from the long drive that day, or maybe it was a change in altitude, but for some reason, Grandma went one way when the car was starting in another direction. Now, Grandma is tough – but not as tough as a two-thousand-pound car.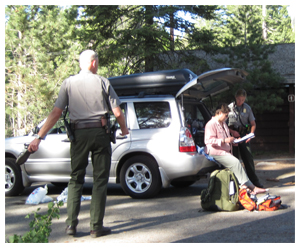 ​The result was Grandma tumbling on the pavement. Goodness help us, we hurt Grandma!
Within seconds of the accident, a bystander ran up and said she would call for help (kudos to this stranger). She bounded into the small market.
Grandma was talking and feisty – which was a good sign.
A quick check revealed no visible broken bones and her head was ok. The tip of her shoe, but not her foot, was pinned by the wheel – another two-eights of an inch and it could have been much worse. The shoe was removed from the tire. During the fall Grandma had turned to catch herself and badly tore back the nail of her big toe. It was bleeding.
A family member ran into the store for some ice. The manager of the small grocery store quickly brought out several bags of ice (kudos to the manager).
About two minutes had passed since the accident. As our family gave some very basic First Aid a Park Ranger's truck rounded the corner. The Ranger had been close by and just received a call about an accident. Shortly, a second Park Ranger arrived.
It was great to watch the two; they were calm, professional and in control of the situation. They quickly assessed the scene, did a great evaluation of the patient, calmly let the patient know about the situation and how they were helping. Their large bag of medical supplies seemed to hold just about everything and in no time Grandma had an examined, cleaned and bandaged big toe.
It was obvious from their professionalism and actions that were fully prepared to deal with some far tougher situations.
Their work impressed upon me that I need to brush up on my own First Aid skills.
For their professionalism and help – big kudos to the Park Rangers at Kings Canyon National Park!
After mentally collecting ourselves and counting our blessings we made sure to pay for the ice. As for Grandma, she was scuffed up a little but overall ok and ready to continue her trip.