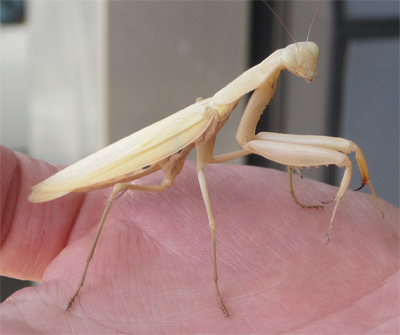 The small often overlooked things can bring people back to living in the moment. Our experience occurred while driving to our campsite in Lassen Volcanic National Park in northern California. We had stopped for gasoline, just off the Interstate, when my daughter saw something unusual. She looked closer and discovered a white Praying Mantis hiding on a cream-colored section of the pump and dangerously close to passing feet.
The location was not safe for the creature so I carefully picked it up, or rather it jumped to my hand. We studied it for several minutes, amazed by the buttery-white color. It seemed to study us as well.
Our drive that day had been hurried with stress and schedules, but the discovery of this curious insect changed everything for our trip. The act of finding the white mantis was a discovery moment, it had allowed us to mentally cross a threshold; we were no longer hurried by going somewhere, rather we were somewhere. Although we were not yet camping, we were living in the moment.
Nearby were some flowering plants that were in a protected area. We found a lighter colored plant so the mantis might be better camouflaged. We carefully deposited the mantis, and after a few minutes, it stealthily strode somewhat herky-jerky into the bushes.
We enjoyed a pleasant drive into the national park; thankful for the unusual experience the little insect had given us.
We later learned that this mantis (a California Mantis), molts several times and, after molting, their color is very light. The color then changes to brown or green.