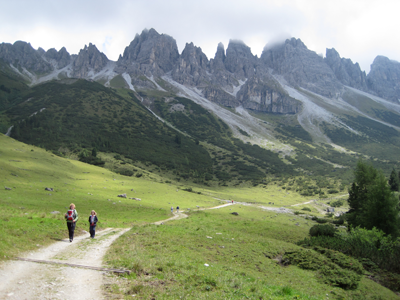 Car camping is a fun way to experience the outdoors and spend time with family and friends; for some, it can be the catalyst into a larger world of exploration.
This is the true power of car camping; it introduces people to the outdoors in a safer setting, allows them to learn, build confidence, and then embark on even more exciting adventures.
At some point, while camping, the trail you hike during an outing will entice you to explore a little further. The campground might feel crowded and you hunger for more space. A scenic view will beckon you to see it more closely. You might even have thoughts about a more remote campground, or even backpacking. Listen to those quiet calls for they just might be moments of clarity…what Joseph Campbell referred to as a "call to adventure."
Embrace those calls; go on a longer hike, join a hiking club, find out more about backpacking, attend a travel-related class about some cool destination. Read everything you can about making your time outside more enjoyable. Take those next steps. Go exploring!
Here are some resources that can help-
BACKPACKING BOOKS:
Ultralight Backpackin' Tips, by Mike Clelland
Lighten Up by Don Ladigin
Both of these books are fantastic resources for lightening your backpack.
Yogi's Pacific Crest Trail Handbook (Yogi's Guide) by Jackie McDonnell
If you are interested in hiking the PCT this is an indispensable book.
FOLLOW YOUR BLISS BOOK:
Pathways to Bliss, by Joseph Campbell
A great introduction about following your bliss and the call to adventure.
OUTDOOR EDUCATION:
Leave No Trace
lnt.org
Ethics about how to enjoy the outdoors responsibly. Read up.
National Outdoor Leadership School
nols.edu
Wilderness education classes.
REI
rei.com
REI stores offer a number of free classes related to hiking, backpacking, and travel.
EQUIPMENT:
Anti-Gravity Gear
antigravitygear.com
Really good lightweight gear for backpacking.
Gossamer Gear
gossamergear.com
Lightweight equipment and they have a fantastic blog about backpacking.
Tarp Tents
tarptent.com
Ultralight shelters.
Ultralight Adventure Equipment
www.ula-equipment.com
Fantastic backpacks – Made in the USA.
TRAVEL:
Lonely Planet
lonelyplanet.com
Excellent guidebooks for the budget-minded and experience-seeking traveler, they tell it like it is.
Hostelling International USA
hiusa.org
A fun and affordable way to travel and meet interesting people. I met my wife while hostelling!
Rick Steves' Europe
ricksteves.com
A really good travel resource for heading overseas.
Transitions Abroad
transitionsabroad.com
A great resource for meaningful work, living, and study abroad.