Big timber wants you to believe that clearcutting, spraying toxic chemicals, and shipping logs overseas are good for the state. The industry manipulates public perceptions to get around voters who want clean water, healthy forests, and a long-term economic vision. This is done through the art of persuasion.
Here's one example. The book is the Oregon Forest Protection Laws: An Illustrated Manual, it is published by the Oregon Forest Resources Institute (OFRI). The book is an easy to use, visual instructional guide and is "the standard reference for those planning and executing timber harvests."* OFRI is an organization that receives its funding from a volume-based harvest tax paid by timber companies. Critics have said that OFRI is a mouthpiece for the timber industry; supporters say they are just communicating the rules about the Oregon Forest Practices Act. **
Take a look for yourself. Spend a minute really looking at the manual's front and back covers, the back cover is seen on the left.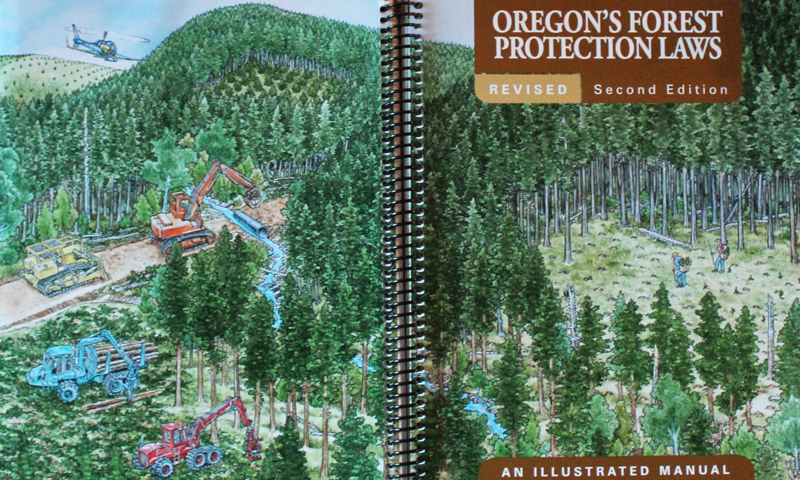 What do you see?
What do they want you to see?
How do you feel?
The heavy machinery is easy to spot. Did you notice the helicopter, or the clearcut being replanted as a monocrop? What about the cute forest animals hidden among the trees? The aerial perspective reveals a landscape where nature appears to be assisted by human activities.
This manual is more than simply communicating timber rules with cute artwork, it's a high-dollar marketing publication that includes vibrant colors, professional layouts, and extensively uses hand-drawn images. There's a reason why these simple designs, accentuated with a watercolor technique, in a three-dimensional birds-eye-view, pictorial map is used on this manual. The artwork is the hook. The artwork suggests authenticity, simplicity, good character, beauty, freshness, wholesomeness, and it even whispers about adventure. This imagery implies the message is genuine.
People relax and let their guard down when they believe something is genuine. Tourist boards use this style of artwork on visitor maps for towns and cities to comfort people so they feel safe and will spend money. Disney also uses this style of artwork on their location maps. Disney's marketers are unparalleled masters of generating revenue by perpetuating a fantasy experience; this is done with functionality while weaving in elements of excitement, novelty, and escapism.
It's no accident that big timber uses imagery refined by the tourism and entertainment industries. Influencing the public is about crafting a feeling in the heart, and what the heart believes the mind follows – perception becomes reality.
The Oregon Forest Protection Laws: An Illustrated Manual was created to influence and perpetuate public perceptions that big timber is a genuine steward of the land. The public is less likely to want answers about clean water, aerial spraying, or ask why all the forests are gone when their feelings have already been quietly influenced through the art of persuasion.
References-
* Oregon Forest Protection Laws: An Illustrated Manual
** Willamette Week. "Logrolling: The timber industry is mighty in Oregon—thanks to tax dollars it spends on ads." http://www.wweek.com/portland/article-25348-logrolling.html