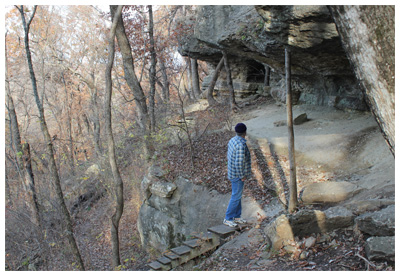 A short drive outside of Tulsa, Oklahoma is the 220-acre Redbud Valley Nature Preserve. This preserve has a great deal of scenery packed into a small space: woodlands, prairie grasses, a creek, springs, small caves, and rugged looking cliffs.
Families will enjoy the main loop trail that takes about an hour and a half to complete. Kids will especially enjoy the many small caves and overhangs in the cliffs area.
As your family explores look for what really makes this place special – many of the plants traditionally found further west on the prairie and much further east in the Ozark Mountains can be found here in this preserve. Think of Redbud Valley as a unique spot, between the prairie and the Ozarks, where these plants live.
A small visitors center is onsite. Flush restroom facilities and picnic tables are located near the parking area. Admission is free. Redbud Valley is open from 8 am to 5 pm Wednesday through Sunday. From Tulsa drive east on Interstate 44 to the Hard Rock Casino on 193rd E (also known as Hwy 167). Go North on 167. Drive 2 miles to Redbud Drive, make a left. Drive roughly 5 miles until you reach the parking area.
For more information about Redbud Valley visit:
http://www.oxleynaturecenter.org/redbud.htm