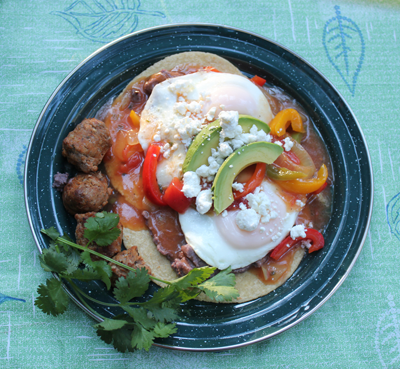 A great meal to enjoy while car camping is Huevos Rancheros. This versatile dish can be enjoyed for breakfast, lunch, or dinner.
I love this meal because of the array of flavors, a colorful presentation, and it's packed with energy.
Huevos Rancheros can be made many ways, this version works well for camping. The recipe was written for use with a two-burner camp stove, one small non-stick skillet, and one saucepan.
As with all ingredients, I suggest that everything has a double or triple purpose. This means when you plan one meal that you can use the same ingredients in other meals or even as stand-alone snacks. Refried beans could be used in multiple meals; eggs might be hard-boiled and used as a treat on the trail, an avocado can replace mayonnaise on a sandwich. Be inventive.
Ingredients:
This recipe is intended to feed 4 hungry campers; the quantity per ingredient might vary depending on which family members have a larger appetite, which is why several items show a number range.
1-4 sprigs of cilantro
2-8 spoons of cotija cheese (feta can be substituted)
1 Avocado
4-8 medium-sized fresh eggs* (optional sliced hard-cooked eggs)
1 can of refried beans
4-8 tortillas
1 pound of chorizo sausage
Ranchero sauce
* If you really want your Huevos Rancheros to taste amazing, use "pasture-raised" eggs.
Before your trip:
Prepare the ranchero sauce and fully cook the chorizo. Freeze the ranchero sauce in a re-sealable container; freeze the chorizo in a foil packet.
The ranchero sauce (make at home):
1 cup of chicken broth
1/4 to 1/2 cup of salsa ranchero (any salsa will do)
1 tablespoon of flour
1 tablespoon of oil or fat
A handful of sliced onions and peppers (optional)
In a skillet over medium heat, sauté the onions and peppers in oil. Stir in the flour, then add salsa and chicken broth. Cook until thickened. Once the sauce has cooled spoon out the desired quantity into container(s) and freeze it.
Equipment:
Cook stove (a 2 burner stove is suggested)
Small sauce pan
Small non-stick skillet
Aluminum foil
When you are ready to cook, place the desired quantity of tortillas in a section of aluminum foil, and fold over so the packet is completely sealed. Turn on your camp stove and set one burner to very low heat. Place the foil packet over the burner so the tortillas can soften. You will need to turn these so they do not stick or burn – they will heat quickly!
On the second burner, heat the refried beans. When these are done start building your plate, using the tortillas as a foundation for your meal, add the beans and smear them over the tortillas. Cover the plate with an upside-down plate, or foil, to keep everything warm.
In the saucepan reheat the sauce. Heat the chorizo in its foil packet. When finished, pour the sauce over the beans and add the chorizo. Cook your eggs. After the eggs are added to your plate, top them off with some cotija, avocado, and/or cilantro. Enjoy your meal.
Remember: Freeze what items you can ahead of time and be diligent about keeping your cooler iced down. Always use your judgment and do what works best for you.
Enjoy.