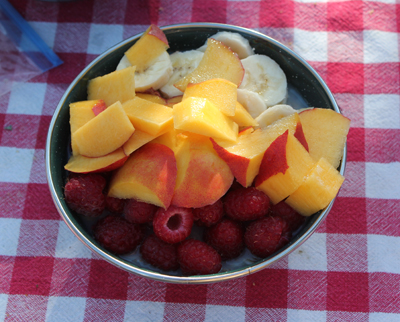 Camping is a time for discovering what is important. For me, one of the best ways to experience this concept is with a flavorful and hearty breakfast of old-fashioned oats. I'm not talking about those instant oatmeal packets that have become a convenience mainstay – I'm talking about a wholesome experience; a bowl of hot, farm-fresh oats topped off with milk, pecans, walnuts, and 3 types of fruits (shown).
Here's how you can discover campground oats for the first time, or rediscover them again. Best of all, these oats taste amazing, and you have just one bowl (your own) to clean.
Personalize Your Oatmeal
Start with great oats. I discourage the use of most commercial oatmeal packets. They have their place, but not for every breakfast. Some of these brands sound great with farm-spun names like "Maple Pecan," or "Blueberry-Raspberry," yet frequently these items are absent from the ingredients lists and replaced with chemical names that cannot be pronounced. Yuk.
I like real food that has texture and taste. That is why I visit the local farmers market and seek out farmers who grow their own oats. If I cannot buy local oats, I look for regionally produced oats at a health food store. My last choice is the big-name commercial brands.
Then at home, I plan what to eat during the camping trip. This includes measuring out the oatmeal for each person (the snack sized Ziplocks are great for this). Then each person adds whatever they want, this could include a variety of healthy ingredients: pecans, walnuts, peanuts, cashews, almonds, sunflower seeds, pumpkin seeds, chia seeds, etc.).
Cooking Oats at the Campsite
The easiest and least messy method involves one bowl per person and makes use of the individual Ziplocks mentioned above. All you have to do is add the dry oatmeal to your bowl and pour in boiling hot water. Cover the bowl and fully insulate it with a towel. Let it rest for about 10 minutes.
At the end of 10 minutes, I might add a little more hot water to make the mix easier to stir. Then I add the milk, fruit and anything else that I want. To clean, wipe out the bowl with a paper napkin to remove any residue so washing up is a snap.
Got Milk?
When my family goes car camping we sometimes bring a quart container of milk. The milk is used in oats, to flavor a cup of coffee, and maybe a splash in an evening's cup of hot chocolate. I keep the milk in a well-iced cooler to prevent spoilage. Other times we take powdered milk. But, finding good tasting powdered milk is not easy; for some reason the vast majority of powdered milk sold in the U.S. is nonfat. Powdered nonfat milk might have its supporters, but I am not one of them! If you want powdered whole milk in your oats there are several brands that are sold on Amazon.com. The best tasting whole milk, in my opinion, is a brand called, "Peak: Dry Whole Milk". This product is imported from the Netherlands.
Fruit Will Rock Your World
Don't add sugar; add seasonally available fruit – it will rock your oatmeal's world. If you want an added power boost, sprinkle in some chia seeds.
Great tasting campground oats aren't just found in a packet; they must be discovered. Start with locally produced oats or buy oats from a health food store. Add milk, fruits, and an assortment of nuts to make the breakfast that will power you through the day – create the practical, healthy, and great tasting breakfast you deserve.