The thought of cooking can be intimidating. Where does a person start?
It does not begin with buying food, rather it begins with a simple process for understanding how you will be camping, the methods you will use to prepare the food, and then deciding what to cook. Here are some suggestions to help with thinking about the process:
What is Your Method of Camping?
This sounds obvious, but campers frequently do not clarify their method of camping and bring way too much equipment. Will you be in an RV, a pop-up trailer, a cabin, a tent, or just sleeping under the stars? Clarifying this question will help you to identify your supplies. Once you know how you will be camping, you can identify the methods of cooking.
How Will Your Cook?
Narrow down your supplies further by clarifying the method(s) needed to cook your food. Here are four common methods of cooking. Depending on your experience and preferences you might use one or several combinations.
CAMP STOVE
Camp stoves have one to two burners and require a fuel canister. They are good for cooking with controlled and sustained heat. These stoves can fold down so they do not take up much room in your vehicle. Make sure to clean your stove after each use and give it a thorough cleaning after your trip.
HIKING STOVE
Hiking stoves are compact and use a small fuel bottle. These stoves are a favorite among backpackers and can be used for car camping. However, if you have a large family, a camp stove might serve your needs better.
CHARCOAL/GAS GRILL
Charcoal is easy to light, there is no wood to deal with and clean up is easy. If you use charcoal, do not cook over the smoke as some brands use harsh chemical starters, and you do not want these in your food. The coals should be gray/white hot before cooking. Gas grills are popular for a quick lighting ability, though can be cumbersome because of size and often require larger vehicles for transporting.
CAMPFIRE
The campfire is the most time-honored way to cook. Cooking over a fire is similar to cooking with a charcoal grill, but make sure the wood does not smoke on your food – unless you know the wood type and this is a flavor you want. If you purchase artificial fire logs, check to see if they contain chemicals; many pre-pressed logs are not suitable for cooking. When using a fire ring, that includes a grill, make sure the heat can burn off any old food and sterilize the metal.
Deciding What to Cook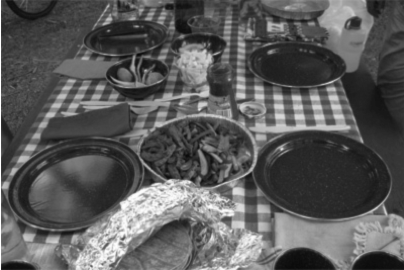 Now comes the difficult question, what to cook? Families who are camping for a night to two generally default to old favorites like hot dogs or hamburgers, but what if you are staying for multiple days? Here are several ideas:
MAKE A MEAL PLAN
A meal plan is a listing of what you want to eat during your camping trip. It is a good idea to really talk with your partner and kids about this plan so everyone has buy-in. Then use your meal plan as a guide to determine cooking methods and generate a shopping list. A meal plan can be developed easily – just refer to the "Food" tab on the checklist from Tip # 1 to help you get started.
PREPARE FOOD AT HOME
Pre-packaged food is appealing because it is easy to prepare and offers a reduced amount of cleanup. However, a less expensive alternative is to prepare some of the items at home and store them in a well-iced cooler. This can allow for healthier eating during the first several days of your camping trip. The key is to eat these perishable items early on your trip so they do not spoil.
Figuring out what to eat on a car camping trip can be intimidating. Minimize the guesswork by knowing how you will be camping and how you will be cooking your food. Make a meal plan and prepare some of the foods at home. These actions can save money, reduce the amount of equipment taken in the vehicle, and allow for healthier, better-tasting meals.
Next, a tip on how to wash all of those dishes.