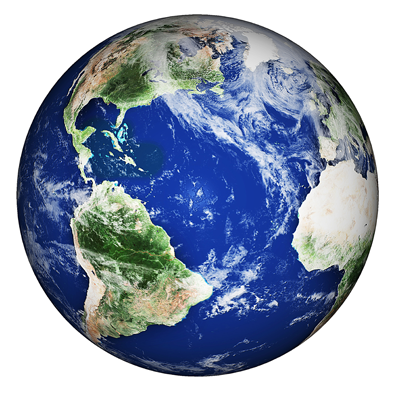 Nature nonprofits wrestle with an everyday problem, how do they get their message out to the public? Many struggle with this challenge.
This article can help. For an eco-organization to communicate their message it will involve creating development and marketing strategies, investing in the organization's infrastructure, and most of all will require you to stop "selling" your message.
A common outreach practice for many organizations is to "sell" their message to potential supporters. Methods to "sell" are based on casting a wide net in the hope of capturing one or two donors, and can include activities such as: attending a generic event and handing out fliers to hundreds of passersby; opening the phone book and randomly calling multiple businesses; or by knocking on doors, then the second, and the third, etc. These activities are NOT outreach; these are the poor uses of time, money, and resources, they are known by un-glamorous names: "shotgunning," "cold calling," and "door-to-door."
All of us have casually ignored the person handing out leaflets at an event, felt ire when interrupted by a sales phone call, and closed the door on door-to-door salesmen. In such a setting where people selling a message are so easily dismissed, what is a nonprofit to do?
Part of the problem comes from thinking of outreach as a function of sales. To be more productive nonprofits must differentiate between outreach and sales.
Know Where Outreach Ends and Sales Begins
Outreach and sales are different; never confuse the two as being the same thing.
Outreach includes all of the engagement activities that you do in your work to help create an emotional connection with the donor. Outreach continues up the point where you ask a donor to cross a decision threshold, the moment where you ask for them to commit to your product/services in the form of time or money; aka "asking for the sale."
This is where the art of sales begins. Sales include activities that are about helping your donor to cross that decision threshold. This might include some negotiation. Moving over the threshold should only occur after a period of nurturing and trust has been crafted.
That's where nonprofits run into problems, they beg for money by shotgunning, cold calling and using door-to-door tactics, methods that push donors across a decision threshold they are not yet ready to cross. Donors don't want to be forced into a decision; they want engagement.
To be successful in your outreach, all of your engagement work must have one foot in development (building relationships) and the other foot in marketing (helping the donor to succeed in what they want to do); first let's look at development.
One Foot in Development
Your outreach program should have one foot firmly planted in a development strategy.
Development (also known as fundraising) is about developing relationships, hence the name. Would you take your sick child to someone who claims to be a healer, or hires someone who claims to be qualified for a job, or gets married without knowing more? No, you would develop some type of relationship first; maybe the relationship is just informational or is about common interests or something more compelling like shared goals. Nonprofit donors need a healthy relationship based on a compelling message, time, and trust before they will even think about helping your cause financially.
The Other Foot in Marketing
Marketing is about helping people (donors) succeed in what they want to do.
I like a plan that is SMART: Sensible, Measurable, Affordable, Relevant and Timely. All SMART plans should include real human elements of storytelling, seeks a collaborative solution, and have a desire for mission success.
A marketing strategy will help with: forecasting lead opportunities such as events, field trips, webinars, and other campaigns; integrated planning, identifying audience opportunities, creating organizational identity guidelines (fonts, colors), utilizing automation tools for engaging and nurturing leads, qualifying potential donors, and measuring the results for improvement. Marketing is not about glitz, glamour, or arts and crafts; marketing really is a lot of unflattering work as working with spreadsheets, web site automation, studying data, and measuring results against goals. Marketing actions should always support the generation of revenue.
Communicating an organization's outreach message without a foundation in development and marketing is deadly; to survive and thrive your organization needs to embrace essential technology and create measurable processes.
The Essentials of Successful Outreach
A great outreach program needs a robust infrastructure to maximize success; best of all, these suggestions can support your entire organization. Here are some essential elements:
Utilization of an industry-leading database (like 'Salesforce' with a 'Classy' web skin for marketing activities). NOTE: of all the tools needed by a nonprofit a quality database should be the number one priority. Your mission is critical to good data that can be segmented and reports generated. Invest in a good database; used effectively it is an investment that pays returns many times over.
The Outreach Manager/Specialist must "own" or at least have access to the database..
A well-defined marketing/development strategy for the entire organization.
An outreach plan that is SMART:

Sensible.
Measurable
Affordable
Relevant
Timely

A plan for a nurturing campaign via email, snail mail, social media etc. that allows people who are interested in your organization, but not ready to engage, to remain aware of your message on a weekly or monthly basis.
Use of more inbound vs. outbound marketing tools, such as using a blog to tell your story and use of social media tools as LinkedIn and Facebook.
Marketing call-to-actions on your website that allow you to "capture" the email addresses of interested people (like signing up for a newsletter), a big "Donate Now" button/form so you can collect donations, ways to signup for events, webinars, download an information sheet, etc.
Strong use of Board Members' business/community relationships to help generate new contacts and strengthen relationships.
Create defined and well-told stories about your organization that communicates:

How did you start?
What are your impacts?
What are your values?
How are you improving?
Where are you going?

The will to move forward by the organization's leadership.
Outreach is not about "selling," it's about engagement. Quality engagement comes from jettisoning outdated ideas, identifying solid marketing and development strategies, and investing in modern infrastructure to accomplish your outreach goals. Only then can outreach truly and successfully communicate your organization's important mission.