"Due to a lapse in federal funding this Recreation Site is CLOSED." This was the sign that greeted us at the Johnston Ridge Observatory Visitors' Center at the Mount St. Helens National Monument in Washington state.
We could not believe it; our 2 families had spent months of planning, each of the parents had taken time off work, everyone managed their household budgets, 3 kids juggled school homework, plus everyone had to deal with the expenses related to lodging and traveling.
Although much was closed, we made the best of it. The children were not deterred by the closure, they were very content just to be outside, run, play and have a great time, though for them the eruption of Mount St. Helens was ancient history.
For the parents, we remembered the eruption, we understood that the younger ones needed to see the volcano, touch the exploded trees, walk on the landslides, witness a forest that had been laid flat 30 years ago.
We stayed in the area for 4 days, camping, exploring, hiking, and talking with locals – who were very eager to unleash their frustration about the shutdown and tell us how much income that had lost from canceled bookings. Even though it was the end of the season the late bookings are what helped many small businesses move into the black with their earnings for that year.
Each day we made a pilgrimage to Johnston Ridge in hopes of seeing the volcano, but a thick layer of clouds always obstructed our view. On the last day, our patience was rewarded. At first, we were in the clouds and could only see several hundred feet, then in less than 30 minutes the skies cleared and we were treated to open vistas. The views were amazing.
A view of Mount St. Helens.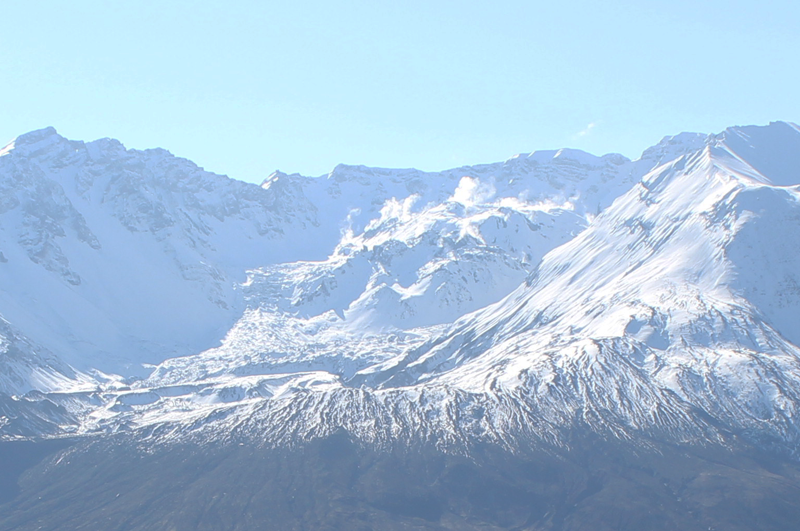 A close-up of the smoldering crater.
Note: The federal government shutdown lasted from October 1-16, 2013.