Unleash your inner train-loving kid at the California State Railroad Museum in Old Sacramento, California.
I could easily spend another afternoon exploring over 20 restored locomotives and railroad cars, but this is more than just a place about railroads, it tells the story of how trains transformed America.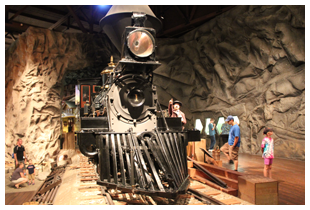 After purchasing tickets you enter a large room with an impressive exhibit about the Transcontinental Railroad. This is an immersive, life-sized diorama that literally pulls the visitor inside to reflect on the arduous task of building a railroad over the rugged Sierra Nevada Mountains. At the center of the experience is a beautiful locomotive. In front of the engine is a tunnel – a masterwork of art – that plays on the eye and appears to continue into the snowy and cold mountains.
After this exhibit is a second immense room filled with trains and cars – all restored. Woven between these great machines are smaller exhibits that give glimpses and perspectives on how trains influenced a growing free-society in the United States. The exhibits also look at the daily life of train workmen.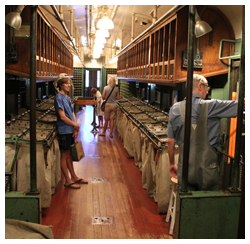 My daughter enjoyed a restored sleeper car, featured as part of the "Golden Age" of rail travel. Inside, the car was darkened, it rocked and swayed, complete with rail noise and passing light signals through the windows. It really did feel like being in a passenger car at night.
The roadhouse is filled with monster-sized locomotives and railcars. Don't miss out on the postal car, where you can see the organization involved with delivering mail to remote communities along the rail line.
Upstairs is a children's play area, and a sizable model train layout complete with bridges, tunnels and lots of trains for those who want to be eight year's old again. Make sure to explore the adjoining area, where you walk over a train trestle and get a bird's eye view of the entire museum.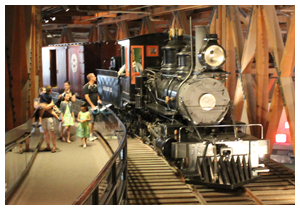 Learn more:
http://www.csrmf.org