Exploring old country roads can reveal hidden stories about America's past.
While traveling through a quiet corner of eastern Oklahoma I came across the Cabin Creek Battle Site, where Union and Confederate forces engaged during the Civil War.
It was a cold autumn day when I visited and the temperature outside was near freezing. The woods were still, only disturbed by several does as they walked slowly over the dry leaves.
The battle site sits near the banks of the wooded Cabin Creek (shown above) and an open field. This area was once part of the strategic Texas Trail, the highway of its day where thousands of settlers, wagons, and cattle-drivers would use the route to travel between Kansas/Missouri in the north and Texas to the south.
This place is quiet and small. Visitors are greeted by a lonely gated entry as you drive down a flint-gravel side road. The battle site itself consists of a small loop with several lonely markers and a few benches. A caretaker's house is nearby, but there is no visitors center, no paved parking lot, no restrooms, no expansive field where you can walk among manicured grounds or maintained fortifications. The site is very spartan in facilities, but that only reinforces that something very genuine lingers at this place.
Walking around the site a visitor can see etched stones identifying the locations where the soldiers fought. It is easy to visualize distances because they are so close.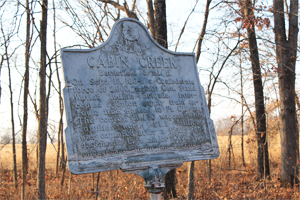 It is easy to toss a rock to the opposite markers without much effort. This must have been a very in-your-face, bloody, personal and intense place.
Seeing the proximity it became easier to imagine the deafening noise of gunfire, clouds of smoke, bullets whizzing past, the ground littered with shards of shattered trees and hearing screaming in the distance from wounded companions as they received Civil War-era medical care.
Then I imagined such a battle not on a cold day, but during an Oklahoma summer (when these battles were fought); and having to fight not just against other people, but also against the unrelenting hot and sweltering summer day with 90% humidly which would make any physical activity torturous after just a few minutes of exertion. During mid-day, the battles probably consisted of shouting insults across this small plot of land taunting the other side until cooler hours allowed for the conflict to continue. But worse would have been fighting the things you could not always see: quick and annoying mosquitos, poison ivy plants carpeting the ground, stealthy ticks and unseen armies of chiggers that bite and leave itchy welts on the flesh.
I left with greater respect for this place where blood between Americans had been spilled, yet an uncomfortable feeling stayed with me for several days. This quiet location on an old country road had spoken in unheard ways about these tumultuous times.
Two battles were fought here; one in 1863 favored the Union, the second in 1864 favored the Confederates. A great amount of history occurred in this tiny area of land.
A newly placed marker describes the first battle, "1st Kansas Colored Volunteer Infantry 79th U.S.C.T. The 1st Kansas Colored Volunteer Infantry was the first black unit to engage in battle during the Civil War. On July 2, 1863, while escorting a wagon trail bound for Fort Gibson, the 1st Kansas Colored was attacked here by Stand Watie's Confederates where the Texas Road crossed Cabin reek. After a Union artillery barrage the 1st Kansas Colored, supported by the Indian Home Guard, forded waist-deep Cabin Creek (shown) under heavy small arms fire emerging with bayonets fixed. The 1st Kansas Colored secured the ford, forcing the Confederates to retreat."
The second battle in September 1864 is described by two markers in the area. "Cabin Creek Battlefield…a Confederate force of 2,000, mainly Gen/ Stand Watie's Indian Brigade, intercepted a Union supply train en-route from Kansas to Ft. Gibson. The convoy of 130 wagons with supplies worth $1.5 million was captured after a heavy engagement." A second marker states the spoils that day included the wagons, plus 740 mules which were also heavily loaded with supplies. This second battle was credited as being a major morale booster to General Stand Waite. Stand Waite was the last Confederate General to surrender at the end of the Civil War.