If you have ever traveled in the central and southern states in the late autumn and winter you might think you see a piece of cellophane laying at the side of the road – look again, it might be a more natural sight.
You might be viewing a beautiful white "Frost Flower" set against the brown and tan ground.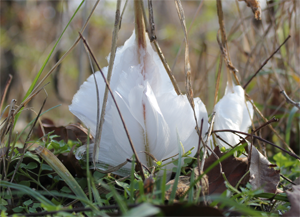 This is not an actual flower, but frozen liquid, curved ice sheets that can resemble flower petals.
In the cold hours of the early morning as outside temperatures drop below freezing the moisture in the stem of the Verbesina virginica plant freezes. This plant has a very long and slender stem. As the liquid in the stem of the plant expands it cracks and shatters the stem, generally close to ground level. The liquid extrudes slowly outward and capillary action kicks-in drawing water up from the warmer ground. This supply of slow-moving liquid and freezing temperatures create stunning results: textured and striated sheets of ice sometimes forming curls and even delicate points.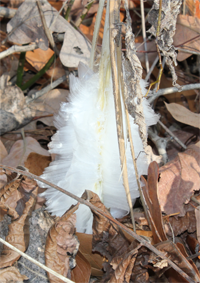 A great time to see them is just after sunrise, as the low-angle morning light shows through the ice crystals.
The ice flowers can be just an inch wide or be as wide as several inches. The largest I have seen formed when several plants, in close proximity, formed a "bouquet" of frost flowers. The display was about 9 inches in diameter.
Frost flowers can be seen in yards, at the edges of roads or even in the woods.
Learn more:
http://www.wildflower.org/plants/result.php?id_plant=VEVI3