Grocery shopping in Austria is one of the best ways to learn the German language and discover this great culture. First-time shoppers from America will see many similarities in the grocery stores, but there are some differences. Here are some tips to better enjoy grocery shopping.
Bring a Bag
In the U.S., bags are often included as a 'courtesy' item when you shop. In Austria, the stores expect you to come prepared with your bags. The locals generally use cloth mesh or fabric bags that are lightweight. If you do not have a bag the store will be happy to sell you one, for a small fee. Most of the paper bags I saw for purchase were 20 cents. If you are traveling and don't have a bag you can use a daypack. The store does not mind what you use for bagging as long as you quickly make room for the next customer.
Weigh Those Veggies
At most U.S. stores you take the fruits and vegetables to checkout and the checker (from memory) enters a code into the register while the items are weighed. In Austria, you might need to approach a scale, weigh the food, and type in an item code. A sticker emerges from the scale and you attach it to the item or bag. Some pre-packed veggies are already weighed and marked. Be observant, don't just grab some veggies and rush to the checkout, take a second to look to see if it needs to be weighed or it is already marked.
Bag Your Groceries…Quickly
In the U.S. the checkout person will scan/weigh the food and send it down a small chute where the food queues up and, if we're lucky, a store employee bags the groceries. In Austria, you or another person in your group needs to be ready to bag the food immediately after it has been rung up. There is generally little space for food to queue and in some cases no area at all – as in a drop-off. If you are slow with this process and food backs up, you might earn a wrathful look from the checkout person or others in line. Best to be ready to bag.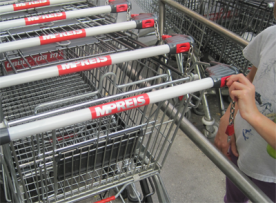 Rent a Shopping Cart
I have seen in a few places in the U.S. where grocery carts are rented using a quarter or a dollar coin as a deposit, but it really has not caught on in the States. However, in Austria, and much of Europe, use of coins are commonplace. When you approach a grocery store you will see the shopping carts are locked together. Have a 50 cent coin or a 1 Euro coin in your pocket. Insert it into a coin area on the cart's handle and unchain the cart. At the end of shopping, return the cart, re-chain it, and your deposit money is returned.
Tax is Included
In Austria, the food is taxed, but the tax is included in the final price. If something costs you 1 Euro, you do not have to pay additional. As a traveler I find this helpful with budgeting my daily expenses; I do not have to consider an additional 7% -10% on top of the final price. I found this to be the case with many food items in restaurants as well, taxes were included in the price.
Know About Bio
Some food will have the letters B-I-O written on the packaging or signage. This food is generally more expensive than conventionally grown food. This is Bio (pronounced, be-oh), and the closest thing in the U.S. we have to this is the 'organic' label. Bio is part of a healthy foods movement and like the organic label has made tremendous strides to improve food quality, but (this my observation) it is possible the label often gets used when possibly it does not meet required standards – or people refer to something a Bio when it is not. I did buy some food (vegetables and walnuts) that were Bio but found it originated from overseas at a location I would question. I asked some locals about the Biolabeling, they were comfortable with buying bioproducts "because it was safe." When other locals were asked about a recent Bio food scare in Germany involving tainted sprouts, where several people contracted food poisoning and some even died, the response was, that it was a terrible accident, and to be safe, "shop from the local farmer first, then buy Bio, then look at conventional foods."
Farmers Markets
Farmers markets are alive and well, but you might need to look for them. Innsbruck has a downtown farmers market and on Saturday such markets can be found on certain corners. The corner market near me in Innsbruck is small, with just a few farmers selling items, but they have the standards: fresh greens, fresh bread, some meat products, and honey. Some items are high in price, but the in-season veggies and bread are more reasonable.
Visit at Off Times
If you are uncomfortable speaking German try to visit stores at down times when they are not packed with customers. The staff is more open to helping you find things and are more willing to speak. You might have several conversations in broken English/German with the store staff but it is always good fun.
Check the Hours
In the U.S. there is usually some store in town that is open 24 hours, 7 days a week. In Austria, the stores have more standard hours (like 9 am to 6 pm) and might be closed on Sunday. Plan ahead and take note of when your local store is open to make sure you have the food items you need.