An enjoyable outing while visiting Innsbruck, Austria, is Schloss Ambras. Schloss in German means castle. Plan to spend at least half a day to explore the armory, the chamber of curiosities, the gardens and the many rooms of this Renaissance palace. The castle houses a splendid collection of historical items and artifacts that have been collected over the centuries.
The first stop is the armory. Here visitors are greeted by a life-sized exhibit of armor-clad knights on horseback. The craftsmanship of the armor is first-rate. The metal work is so shiny that at times a visitor can be momentarily blinded by the reflecting lights. Adjacent rooms have a weaponry-cornucopia of swords, pikes, lances and a variety of hunting blades, even some of the earliest rifles.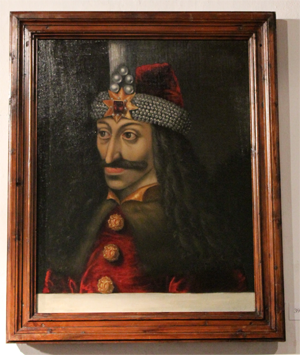 The Chamber of Arts and Curiosities lives up to the name. Some of the items in the collection do not need an introduction, like a painting of Vlad the Impaler, who was notoriously known throughout the centuries as inflicting horrific, slow and grotesque deaths upon his enemies. His atrocities have sobered many throughout the years, causing a person to wonder if such a human was really a monster? Vlad was the inspiration for the character we know today as Dracula.
Another painting features a man who survived being impaled in the head at a jousting tournament and apparently survived well enough and long enough for his portrait to be painted.
The collection includes hundreds of items, but one tiny wooden sculpture, called the Tödlein, less than foot tall, is so ornately carved with such precision and detail that one catches their breath – only then to see the carving is without facial features – a skeletal head with deep and empty eye sockets and the toothy face of Death – and one catches their breath again.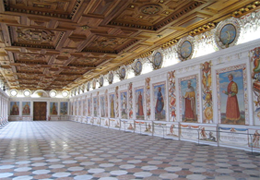 Walking across the green courtyard in the brilliant sunlight you pass a small cafe and walk to the upper castle. Here is the Elegant Spanish Hall. This beautiful hall was built between 150 and 1572 and is truly a feast for the eyes. As in years before people have donned their finest attire to attend waltzes, balls, and social events and visit this hall for an evening of revelry and fun. Today, waltzes and other events continue held here in this lovely hall.
The remainder of the main castle offers 4 floors to explore. On these floors are 250 paintings from over 400 years of members from the House of Hapsburg and relations. You can also find special traveling exhibits. There is also a small, but the ornate church, and a bath hall.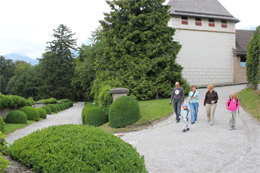 Finish up the visit by exploring the lush grounds that surround the castle.
Learn more:
http://www.khm.at/en/plan-your-visit/ambras-castle/