Innsbruck has a number of colorful neighborhoods, one of the more curious is Hötting.
Hötting is located in the northwestern part of Innsbruck, just a short walk from the touristy and historic Altstadt area. Immediately crossing into Hötting it is noticeable the crowds have thinned and the pace of life is slower and more relaxed. The main street, Höttinger Gasse, is quiet except for the occasional auto that whizzes past. Walking up the gradient of the street sharply increases but it is not uncomfortable, possibly this detracts most tourists from venturing to this area. The streets are
very narrow here and suggest this is a very old section of town. According to the Stadtarchiv Museum (City Archives), this is actually one of the oldest sections of Innsbruck. The streams here were once used as a water source for the city.
A short way up the street are signs of artistic graffiti on a long wall. Some of the images, artwork, and designs have humorous slants. One image mixed in with the tangle of colors is a life-sized painting
of the animated character Homer Simpson, of course, he is thinking of beer as shown by several thought bubbles. At the end of the wall is a curious visual display; several large plate glass windows – like those of a shop – offer a glimpse into a bedroom. In the bedroom are two mannequins with a variety of arms and legs sprawling in every direction; in the midst of this revelry, the mannequins gaze at each other with unemotional expressions. The scene is cause for a double-take among passing pedestrians. Another area along the street, in a recessed area, is a stenciled picture of a former US President wearing an elfin-looking holiday stocking on his head with the words, "Happy X-mas USA." A small business selling drums and didgeridoos is nearby. Another small business has a sign offering eastern meditation and martial arts classes.
Continuing up the street is a very curious memorial; it is from World War I and dated "1914-1918" and the words, (translated to) "The Fallen in War from Hötting." The marker features several carved crosses and a man – a soldier, his head down, his hands resting on and over the barrel of his rifle, his expression austere. However, approaching the monument his expression changes, he now appears sad, somber and mournful. He stands over a number of names of soldiers from World War I – those who never returned. The second set of names appears below the first grouping; these names appear on a memorial that was never intended for them, these are names from World War II.
Further up the street is a church, the "Alte Höttinger Pfarrkirche" (Old Hötting Church). This church is quite old and has some refurbishment work that is under construction. Nearby is a simple graveyard, a peaceful and colorful place with various dates on the markers along with photos and flowers for loved ones. Walking out of the cemetery, through a stone gateway and up a curved street is a small green space with a magnificent and expansive view of Innsbruck. Several benches are placed here for the enjoyment of folks who have discovered this fine location.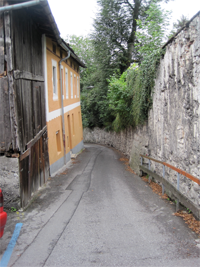 Looking below are the streets of Hötting and downtown Innsbruck can be seen not far away. Hötting is very pleasant, safe and quiet. It is a worthwhile place to explore, the quiet back alleys and narrow streets reveal farms and houses with gardens.