Sometimes when you travel a place just catches your eye – you want to see more of it. A small church named Kalvarienberg that overlooks Arzl and the city of Innsbruck, Austria, caught my eye fifteen years ago. It was a tiny, white building perched atop a small hill. For some reason this hill just beckoned to me – I had to visit. During that first trip more than fourteen years earlier, I never got to see it up close, even after visiting Innsbruck multiple times the opportunity slipped away….until recently.
The church is about a forty-five minutes walk from the Youth Hostel in Innsbruck. Wear some comfortable walking shoes as the ascent is greater than it first appears. Part of the enjoyment of the walk is you get to explore the small town of Arzl, which is quiet and relaxing.
Arriving at the base of the hill where the church stands you will pass several shrines along the worn footpath. The area is covered with green grass and sheep are grazing in a fenced area on one side of the hill. Reaching the top allows for fantastic views of the city and mountains beyond. The church is old, has a white exterior and is smaller than I expected, but uniquely designed for the small hill; it does not detract from the natural beauty of the area, rather the hill is beautified by this structure.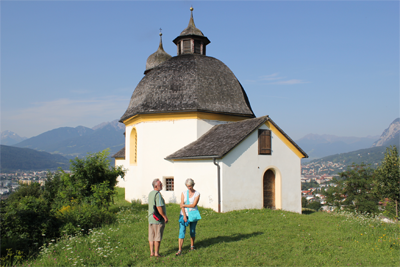 Artifacts from Roman times and even stone age peoples have been found on this hill. It was easy to see why this is a great location to defend and to see who might be coming down or up the river. But, today this hill offered peaceful personal reflection and a platform for drinking in intoxicating views of the majestic Inn Valley. Bring a snack and some water for the hike, or even a small picnic to enjoy at the top.
I returned from the hill and back to my starting point, I looked back. The church quietly stood on the hill as it had before my visit.