The scenery on the drive to the mountain village of Kühtai, located in the Tirolean Alps, was splendidly delicious. The town was located less than an hour's drive from Innsbruck but passed all manner of natural delights: mountains helmeted with snow, cascading streams of water, thick carpets of forests and open expanses of glacial carved valleys. Tan colored cows were commonly seen walking on the roads and signs warning drivers of their presence were common.
Our goal that warm summer day was to locate and touch snow.
The village was basically closed when we arrived. It was a winter ski town and sat snuggly within a mountain pass, far above the trees.
The empty town had a number of buildings but it was not uninhabited; two good-looking blondes approached our group, horses, of course, a mare and a yearling greeted us. They were soft to the touch and were curious about our backpacks. At that moment a tourist bus drove past. Everyone inside looked longingly as we pet the horses and they nuzzled our hands in return, but the bus did not stop, it just continued down the road.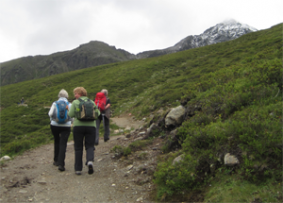 We started the hike. The unseen trail was at a 45-degree angle and hard to navigate. Fortunately, we located the real trail and the ascent was lessened but we still gained elevation. For some time we walked on this thin ribbon of trail that spiraled around the side of the mountain. The terrain was barren, only small plants and grasses grew at this elevation above the tree line. The metallic clank of bells informed us that cows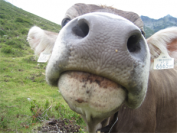 were just ahead – one was very friendly. As we walked out of an indented section of the trail we came to an open area where we could see a great distance, a number of cows and horses were grazing. A guard horse stood at attention and watched us closely, the wind blowing wild streams of blond and tan colored hair across his face. In this open area, when the wind was just right, we could hear bells from several kilometers away being worn by cows on the opposite side of the great valley.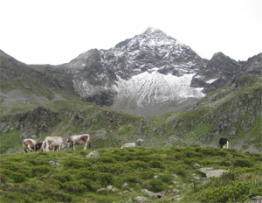 Gentle trickles of water rippled down the mountainside offering opportunities to hop and skip over streams, rocks and sometimes slip to find a quagmire of mud. The wind was cool on the mountain, we placed warm knitted hats over our ears to protect us from the nippy chill.
A lake appeared before us. It was difficult to see from afar as its mirrored surface reflected all that shown upon it – it was a perfect camouflage, that is until the stillness was disturbed by a thrown stone. Then, as the rolling ripples raced away from the disturbance, in perfect circles, the colors and tones of blues and greens revealed themselves. The lake revealed that it hid some deep water.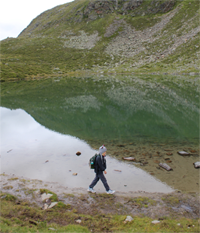 The trail grew steep again. Several cows watched us from nearby. One even let us pet it – it was surprisingly soft. Ahead of us was lettering etched on the side of the mountain, they were large capitals, possibly as large as a man is tall, the letters spelled M-E-I-N. In English, this translates to 'mine.' Such a statement gave a person pause to contemplate the meaning.
Our small troop was still well below the snow line and there was concern that maybe our hopes to touch snow would be dashed. We crested a rise in the trail. A stream with a respectable flow of water was disgorging itself from the ground. Beyond lay a marshy area, more appropriately the 'ground' was mossy, spongy and acted like a trampoline as we walked, astronaut-like, across this green moonscape.
A hole, about the size of a large grapefruit, was in the ground near some rocks – there were tracks around it. This was a Marmot's home. A Marmot is a furry creature that looks like a giant Guinea Pig – but tougher, more independent…rugged. Just beyond lay another hole, possibly several Marmots lived here, but more likely this was just a back entrance.
The spongy area now turned to grass, but it was littered with the candy-sized droppings from mountain sheep. We skipped on rocks to avoid the abundant sweetness on the ground. With our eyes patrolling where we stepped none noticed the rubble field that lay before us.
We stood at the base of a great alluvial fan of shattered, shocked and shards of granite that had fallen from the face of the mountain. The source of this stone projected itself skyward into the blue many hundred of meters. Part way across this expanse of gray rubble and dark boulders were two tiny dots of white snow. We carefully hop-scotched and danced across stones; some as voluminous as autos, others the size of a phone book. After fifteen minutes of trudging the white dots were now the size of a small room. We had found the snow! Those who arrived at the snow ahead of us slower, more careful and diligent hikers, took inventory of their resources and seeing an abundant supply of not just snow, but icy-cold-slushy snow, decided to pelt their comrades.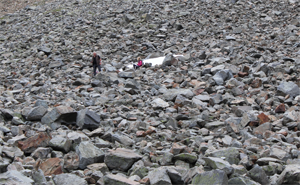 The Snowballs rained down! The icy artillery slammed into the rocks with a 'splud' releasing spray and ice. Most of the snowballs were tossed in amusement and humor, but on occasion, I felt the sting of a good joke as the spray from a snowball made contact – or worse found an opening in my jacket and felt like frigid fingernails down the back of my shirt!
Finally, everyone arrived at the island of snow in this ocean of stone. We built a small "Schneemann" (snowman). We devoured our small lunches and contemplated the beauty around us, though my thoughts kept returning to my lunch, rather the lack of it, and that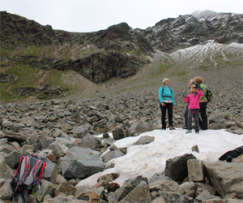 next time I would pack edible provisions with significantly greater mass.
An arctic type chill descended on the valley. The vagrant white clouds that had lazily wafted overhead all day had quickly gathered into a sizable gray mob on the horizon. The Grandpa in the group informed us to pack up, it was time to leave the mountain.
We departed the snow patch, over the jagged stones and through the spongy marsh area, and over the mountainside but on a downward path. We passed another lake. It was beautiful but oddly warm to the touch – it lacked the expected chill. A large boulder in the lake appeared to rise from the temperate still waters.
It started to rain. We donned our rain gear and continued down the mountain. After twenty minutes the rain let up and the sun briefly illuminated the valley. After a few additional minutes the warm sun was replaced with overcast clouds.
Ahead of us was a herd of horses that was very pleasing to the sight. They were tan, muscular, healthy and dined on an abundance of the green mountain grass.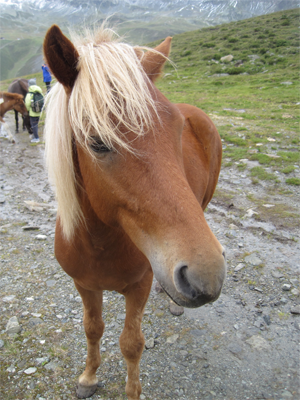 We called them 'the nibblers' at first, as their nibbling was cute. A mother horse nibbled on a jacket, a shirt then a backpack. Something about the backpack was intriguing so she informed her yearling, who bounded over to engage in a taste test. Then other horses arrived. These majestic creatures must have thought of us as walking food bins as they too nibbled on us and everything on us: our shoes, pants, backpacks, jackets, rain jackets, shirts, hands, arms – even my daughter's head! This behavior had quickly passed from cute to annoying and was starting to border on fear. In the midst of this nibbling chaos, a horse appeared to slowly glance this way, then that as though he was looking to make sure no one else was around before we, the humans, would be devoured. That same horse then looked squarely at me – and it is not a stretch of the truth to say this – the horse licked its lips as though anticipating wolfing down a decadent meal! Now I was genuinely concerned for my safety. These were not gentle Alpine horses, but mountain piranhas! We took our leave of them and scurried down the hill and to the village. As we moved away one horse stepped from the hungry pack to look longingly our direction, possibly out of curiosity, but more likely with a pang of hunger! Other hikers were in the distance and would soon pass the horses; sensing a second chance the horses re-staged themselves for their next performance and returned to their melancholy grazing. They would be having visitors for lunch…
The buildings of the village now appeared before us, but in miniature, like toys in a child's room. In our bid to escape the horse-piranhas we had lost the trail, and instead invented our own, which was now 45 degrees in decent. We moved down a small crease in the side of the mountain, occasionally scaring up a frog. Some of the frogs were of good proportion and we joked that we were always seeing the same frog who was trying to escape us. My daughter collected wildflowers on the way and made a beautiful bouquet.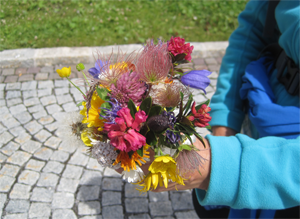 Back in the village, it was quiet. We looked for a place to grab a coffee and relax, but none was to be found in this Alpine ghost town of modern buildings. A chilled wind blew around us so we gave up on coffee and headed back to the car. At the vehicle, everyone gladly unleashed their barking feet from the restraints of the hiking boots. We then slid our feet into squishy, roomy and comfortable sandals.
Our feet were sore, our knees ached, our faces were slightly windburned, we had too much sun, we were thirsty, hungry and tired. But, it was a good tired!
Everyone had a fun, eventful and meaningful day being outside, with good company in these beautiful Alpine mountains.
I breathed in a deep breath of cool mountain air and held it in my lungs, savoring the 'deliciousness' and not wanting to breath out.
Another tour bus blared past. Eager faces were pressed near the tinted glass, they appeared to be anxious and wanting of an active experience.