The Hofgarten in Innsbruck, Austria, is a quiet and lovely place to escape the tourists of nearby Altstadt (Old Town). This large public garden was once created for Imperial rulers but today offers a quiet place for everyone to collect their thoughts, relax and enjoy being in this beautiful place.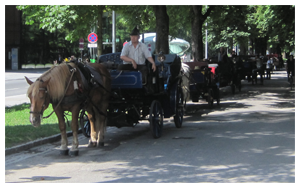 A fleet of Fiakers (Horse-drawn carriages) were queued under large shade trees at the edge of the park waiting for tourists. On slow days it is common to see nearly a dozen horses queued, while during busy days the Fiakers do not have to wait long for eager tourists to climb aboard.
The driver at the front of the queue tried to politely entice my family (in German) to join him and his horse for a ride around the city but we politely declined as our destination was the park itself. A few minutes later he asked another family about a ride, they clamored aboard and the horse trotted away.
We entered the garden by passing through a tall gate held in place with high and thick perimeter walls. Inside the walls were manicured lawns, lush trees, flower patches, and wide pathways.
Near the center of the park was a large white structure. Some people had gathered, most were middle-aged or elderly. Some of the crowd members stood but most sat on benches. Everyone quietly watched several men standing at the edge of a large chessboard built into the ground. Each playing square on the chessboard was about a third of a meter wide and the largest chess piece was about half a meter tall. A good number of pieces lay at the sides of the chessboard – the battle must have been intense. Just a few pieces remained on the chessboard and the opposing Generals carefully contemplated the strategy and tactics of their remaining chess armies; only moving their pieces once they had calculated all possibilities.
We left the chessboard and explored the rest of the garden passing a small pond. People were courteous and quite – enjoying this peaceful place in the middle of a city.
Above the trees, in the distance, gigantic mountains that stretched into the clouds surrounded this urban park and the city of Innsbruck.