Visitors to the Alpine city of Innsbruck, Austria, can expect to see the Goldenes Dachl (The Golden Roof). The Goldenes Dachl is the center of Altstadt (Old Town) and the historic center of Innsbruck.
The name is derived from the 2,657 gilded copper shingles that adorn the top of this structure built around 1500. The effect is radiant when light shines upon the roof; it continues to impress visitors 500 years after being built by Emperor Maximilian I.
I won't go into the life of Emperor Maximilian I, but here is a little about his legacy; Maximilian greatly expanded the House of Habsburg, through wars and marriage, and helped it become one of the most important royal houses in Europe thus greatly influencing European history for centuries after his death.
Today, most visitors just look at the Goldenes Dachl, take a photo and move on to the next sight. But, the curious should peek inside the Goldenes Dachl Museum (Golden Roof Museum) to learn more about Maximilian I and the 500-year history of the Goldenes Dachl. Inside this museum are some great photos, including photos of Innsbruck during the early 20th century prior to and during World War II (it was here I was reminded about a story I heard back in 1996 during a pervious visit to the city). The story involved the people of Innsbruck encasing this beautiful building in a protective bunker during World War II, yet little is mentioned today about this act of preservation. The story might be known to natives, but it is rarely mentioned to tourists.
During World War II Innsbruck suffered from both occupation by Axis powers and aerial bombing from the Allies. In the mid and late war years, the city was slammed on multiple occasions from Allied bombs which devastated the nearby railroad yards and many surrounding buildings. The Altstadt area also received bomb damage. To protect this treasure, the people of Innsbruck encased the Goldenes Dachl in a thick bunker to protect it from damage. At the War's end the bunker was removed; amidst the surrounding ruins of war the preserved Goldenes Dachl shown brightly and became a symbol of hope during Innsbruck's rebuilding.
Shown below is an image taken in 1945 showing bomb damage with two-meter deep rubble piles; the rectangular bunker can be partially seen in the left of the image, note the horrific gouge in the top front. The color photo is from the same vantage point taken in the summer of 2011; it shows the Goldenes Dachl and Altstadt area alive with visitors.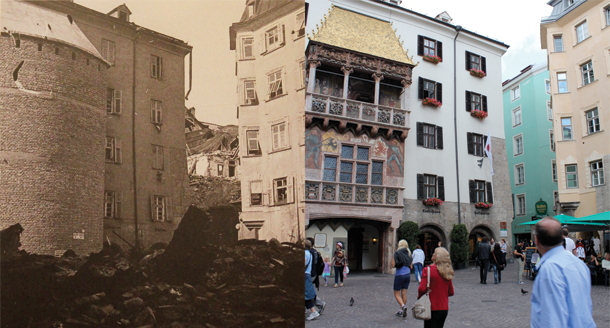 Original 1945 Photo Source: Goldenes Dachl mit Luftchutzmauer, Friedrich Nickel, 1945, schwartz-weiss Negativ, Sammlung Walter Kreutz KR/NE-3486.
Source Book: "zur Stadtgeschichte Innsbrucks," page 120, Ingrid Bubestinger and Gertraud Zeindl.