When people think of a log fort from the 1800's they might envision a large square-shaped structure made with an outside wall of sharpened logs to keep out attackers. Watchtowers at the corners of the fort keep a lookout over 'untamed' lands. Inside the fort are soldiers cooking, cleaning, writing letters home and maintaining weapon readiness. In a modestly furnished room officers are engaged in negotiations with local peoples, trying to keep the peace while projecting American interests on the western frontier.
If you have ever wanted to explore such a place – you can at the Fort Gibson Historic Site in eastern Oklahoma. Fort Gibson is a great place to explore; kids will enjoy the cannon in the plaza while Mom and Dad can peek into various rooms and quarters that are refurbished with period furniture and equipment. During your visit check out many of the surrounding buildings in the area, many are from the 1840s -1870s.
Fort Gibson is not known for one particular historical event like some forts in the west, rather it had a long service that affected many events in U.S. history.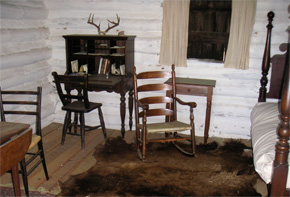 Some of the people who walked the grounds at Fort Gibson greatly influenced American history especially leading up to and during the Civil War, including: Robert E. Lee (General of the Confederate Army), Jefferson Davis (President of the Confederate States of America) and Zachary Taylor (General and 12th President of the U.S.).
In 1824 the site for Fort Gibson was chosen because it is strategically located at the confluence of three major waterways in the region: Grand, Verdigris and the Arkansas Rivers. At the time it was the most western fort on the American frontier. The fort's mission was "to protect the nation's southwestern border and to maintain peace on the frontier, particularly between the feuding Cherokee and Osage." After the 1830 passage of the Indian Removal Act, the fort "became increasingly involved in the removal of eastern tribes to Indian Territory." The Fort also provided troop deployments to Texas when Americans in Texas were rebelling against Mexico. During the Civil War, the fort served as a Union base of operations. For more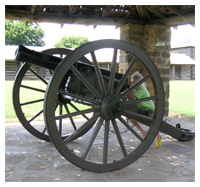 than sixty years the fort served the country until 1890 when the site was abandoned. After the abandonment, many of the buildings fell into disrepair. In the 1930s much of the log fort was rebuilt and many of the surrounding buildings repaired.
Today, what is the most fun about Fort Gibson is that it is not a glitzy tourist destination – it offers visitors an honest and refreshing ruggedness not found in many historic sites. If you want a real treat to start a conversation with a volunteer to hear some interesting stories and learn more about the people who lived and worked at Fort Gibson.
Source:
Oklahoma Historical Society Encyclopedia: Fort Gibson
For more information visit:
• Oklahoma Historical Society Encyclopedia: Fort Gibson
• Oklahoma Historical Society Military Sites