Autumn at Lake Tahoe offers beautiful vistas, vibrant colors and the rare opportunity to see Black Bears along a creek catching spawning Kokanee Salmon.
Recently some relatives, visiting from overseas, made a trip to California and included a side trip to beautiful Lake Tahoe. We suggested they see the Lake's sights in October during a tourist 'down time' when the weather is still warm and the summer crowds have disappeared.
The relatives were not disappointed by their visit. One trip particularly amazed everyone in the family from age 3 to 67.
Walking next to Taylor Creek, at the southern shore of the lake, they saw vibrant red colors moving in the clear and cold water. These were spawning Kokanee Salmon. Then hearing some nearby splashing in the creek they looked up and saw a mother black bear and a young cub wading in the water. They were surprisingly close so everyone backed-off a little to allow the bears their space. The bears were catching fish to build up their fat reserves for the coming winter. Several good pictures were snapped including the picture of this young bear devouring a just caught salmon.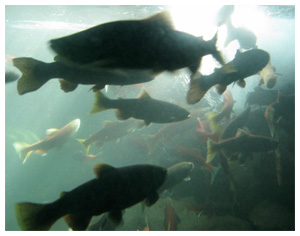 Taylor Creek is a picturesque mountain stream that flows into the southern waters of Lake Tahoe. The nearby U.S. Forest Service Visitor Center at Taylor Creek is a great starting point to learn about the Kokanee Salmon and this wonderful area. The Rainbow Trail is a short hike and very good for families with young children. Make sure to visit the underground Stream Profile Chamber for an up-close and fish-eye view of Taylor Creek.
To continue your own explorations by car drive past the "Y" in South Lake Tahoe drive three miles north on Highway 89 to the USFS Visitor Center. To learn more about this area online, and an annual Kokanee Salmon Festival held at the area, visit the USFS website.