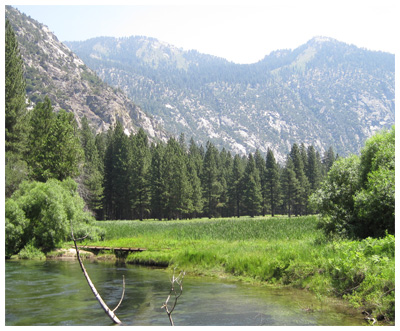 A visit to Zumwalt Meadow is a great hike for families in Kings Canyon National Park. Everyone will enjoy an easy walk next to a river, through open forest and along the perimeter of a beautiful mountain meadow.
The trail leads downstream a short distance to a rugged looking suspension bridge. It is a great place to snap some pictures. On the other side of the bridge, several kids were splashing in a shallow pool. Dad was nearby about knee deep in the water keeping an eye on them. An older man about fifty feet away (possibly their Grandfather) was fishing.
The trail continued through an open forest for several minutes to an area strewn with massive boulders, this is the result of an avalanche. We walked along the trail between and over the debris left by the avalanche. The trail rose about 50 feet over the meadow and offered some fantastic views of the valley below. After about 15 minutes the trail leveled out and we found ourselves once again surrounded by trees. A large flat boulder sat next to the meadow and provided us with an excellent table for enjoying our lunch.
We walked down the trail and came to a junction. A sign pointed to the Roads End area and to Muir Rock, but we continued with our Zumwalt Meadow walk. The trail meandered through the upper section of the meadow. The shade from nearby trees kept us cool in the afternoon sun.
The river was just ahead. The cold blue and turquoise waters rolled past, in some areas the trail had been eaten away by the river and we had to step to one side to avoid falling in. Around us, the walls of Kings Canyon jutted far into the sky. Some of the peaks loomed almost a mile overhead! In some areas, the afternoon sun was blocked by their presence. The views were just amazing!
A wooden walkway now replaced the trail; it provided a transition between the meadow and the water without getting our feet wet. The views from the walkway were some of the most spectacular of the entire visit. Eventually, the walkway ended and we found ourselves in the open forest and on the trail near where we started. We had completed a loop. The suspension bridge was just a short distance away.
The trail is about 1.5 miles and can take up to an hour to complete, though our trip around the meadow took about 3 hours because of our numerous stops to enjoy this place and just to play. Bears have been known to enjoy this meadow just as much as humans – keep the camera handy.