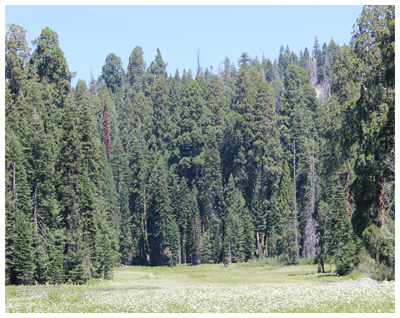 Crescent Meadow was apparently one of John Muir's favorite places – and upon seeing it we quickly understood his appreciation for this splendid location in Sequoia National Park. The abundantly green meadow is about half a mile in length; its perimeter is guarded by the reddish-brown colored trunks of the immensely sized giant sequoias. This combination of colors and nature is set like a gemstone against a deep blue sky of the High Sierra.
We walked a short distance and rounded the southern section of the meadow. As we walked up the eastern edge a friendly passer-by informed us a bear was near the trail. A few minutes later we saw the bear; it was almost camouflaged by the tall meadow grass.
He was not aggressive and just seemed to be enjoying his day. We watched quietly with just hushed whispers to express our wonder, a heightened sense of awareness and respect. We kept our distance not wanting to disturb the bear or call any additional attention to ourselves.
At the second right in the trail, we continued over a short rise and saw another brightly green-carpeted meadow before us. This was Log Meadow and after seeing several large logs crisscrossing the meadow it was easy to see possibly how the meadow arrived at its name. Here we found a bench along the trail and enjoyed some lunch.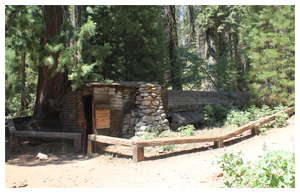 Toward the north end of the meadow was a very curious sight, a burned out redwood tree that was literally a log home. This is "Tharp's Log" a fallen giant sequoia that is about eight feet tall at the open end. The open end is covered by a shingled cabin-like outside. An open door allows visitors to step just inside, another sign asks visitors not to disturb the cabin's interior. Inside the belly of this Sequoia are a fireplace, table, hinged window, shelf, and a bed frame. The log appears to go back about 50 feet. An interpretive sign tells that Mr. Hale D. Tharp was one of the first residents to the area. He used the meadow as
the range for his livestock. The log was his home every summer from 1861 to 1890!
Continuing westward the trail ascends over a small ridge. Here we walked through more giant redwoods and made note of the some of trees marked on the map. The trail re-connected with Crescent Meadow and took us back to the parking area.
After a short wait at the shuttle stop, a shuttle arrived to take us back to the Giant Forest Museum. We had been out for several hours. It had been a great visit.