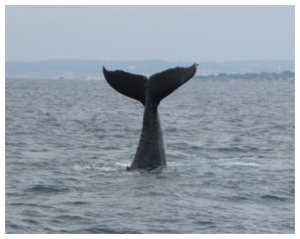 A great family adventure is to go whale watching. Recently we heard the Blue and Humpback Whales were in large numbers in Monterey Bay off California's Central Coast. The whales were feasting on the great population of krill, a shrimp-like a creature, that baleen whales love to eat.
Several companies in Monterey offer whale watching trips. We selected "Monterey Bay Whale Watch," because they were recommended and have Marine Biologists and Marine Naturalists as guides on all trips. On the day we selected the morning trip was booked but we were able to reserve space for an afternoon 3-hour trip. The price was $36 per adult and $25 for kids – a price well worth the experience.
We boarded the 70-foot (21 meters) Sea Wolf II with about seventy other people. At first, this seemed to be a large number but we later found space not to be an issue. We had brought daypacks stuffed with hats, gloves, and extra jackets. At first, we felt awkward with our plump packs but once we entered the open water the wind became colder and we were glad to have the extra clothes.
The waves ranged between 2 and 4 feet (.6 -1.2 meters) that afternoon and the unpleasant sense of nausea was not felt – any suspicion of it was even forgotten when the whales appeared.
In the distance, we could see small geysers of vapor on the water. The whales were close!
We watched several groups of Humpback Whales before moving on to see the mighty Blue Whales. Blue whales are immense creatures – at 90 feet (27 meters) in length, they are the largest creatures ever on earth. These giants glided in the waves and apparently took no notice of us. At one point you could hear them breathe as they passed by.
Then we moved near a group of Humpback Whales. This group included a mother and calf that came within 40 feet (12 meters) or so of our vessel. The Calf was about 10 to 12 feet (3- 3.6 meters) long, the mom was possibly 45 feet (14 meters) in length. The mom made several dives to feed while the calf stayed near the surface. The calf seemed to enjoy frolicking, splashing and playing. Much of our video includes footage of this Humpback Whale Calf.
All too soon we returned to the harbor. Everyone in our family had a great time and no one had been sick. Even if we had felt sea-sick it would have been a treat to see these amazing animals – especially the Humpback calf who gave us great memories.