Where does your food come from? Farmer Tom and his family at Live Earth Farm in Watsonville, California, opened their farm during the Summer Solstice so customers, visitors and the curious could connect with the land and meet the people who grow their food.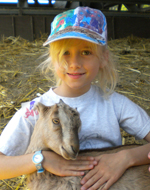 This is a great family outing. Our daughter really enjoyed the goat milking demonstration where she and other children were offered a hands-on opportunity to participate. All of us enjoyed meeting and petting goats, but the star attraction was a very cute three-week-old baby goat that just loved sitting on laps.
Personally, I enjoyed the bread making a demonstration in an adobe oven. I had seen the oven filled with red-hot coals earlier in the day but now the aroma of baking bread caught my attention. Several families were helping and learning about baking bread. All of us eagerly watched as a small door on the adobe oven was opened and fresh, hot bread was removed. It was quickly devoured.
That afternoon we occupied ourselves exploring the farm and picking blackberries and strawberries in several fields. We also joined in on a demonstration about cheese making. The kids soon discovered the large hay fort and a large cooler of strawberry juice (the real stuff). Then came the hayride.
Farmer Tom led families on a tractor-pulled haycart through the farm to the upper fields passing peppers, wheat, apricots, and eggplants. More than a ride, this was a hands-on tour of the farm. A favorite for the kids was riding on the tractor and sampling the wheat berries from a ready to harvest field of golden colored wheat.
After the hayride, we sat on a hill braiding garlic and enjoying the day with the longest amount of daylight of the year. The weather was pleasant. From our vantage point, we could overlook several farms and beyond to the green Santa Cruz Mountains. A hawk flew low observing us before returning to higher altitudes.
In the evening there was a potluck dinner followed by a bonfire. The talented marimba band Kuzanga played well into the evening as families danced, socialized and enjoyed being outside. Several kids were amazed that one of the musicians had to stand on a three-foot-tall stool just to play the largest and deepest sounding of the marimbas.
The sun had just set and the evening was cooling. Our family and our friends headed home. All of us were tired yet happy after a full day at the farm. We left with full tummies, our fresh picked berries, braids of garlic and great memories.
Learn more and continue your own explorations of the Live Earth Farm. Live Earth Farm is focused on Community Supported Agriculture where the customer agrees to buy a part of the farm's organically grown, in-season harvest and in return, the farm commits to growing high-quality veggies, fruits, and herbs. The farm delivers a bountiful portion of the harvest every week to a neighborhood location for pickup by customers