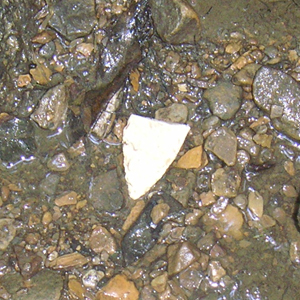 A modern yard can reveal a hidden past.
Anna the seven-year-old eagerly walked up the channel of a rill. The rill flowed through Grandpa's front yard. The rain from several days earlier made the rocks glisten in the sun.
After several minutes Anna showed Grandpa something she found – a triangular, white flint rock with chipped edges. She had discovered an arrowhead in the front yard.
The arrowhead was broken, but the excitement was not diminished. Grandpa believed the whole point was originally several inches in length. With a new sense of discovery Anna eagerly agreed to see some similar things that Grandpa had found. One item, the pocked and rusted remains of a cast-iron water kettle had been found only a few feet upstream from where Anna had discovered the arrowhead. A local antique collector had dated it to the mid-1800s.
We knew something of the local history but we could not help but ask, "Who left these things?"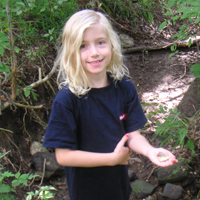 Exploring this simple question led to a week of family involved outings, including visiting local history museums, hiking to old homesteads, reading books about frontiersmen and native peoples and hearing the stories of old-timers.
Anna's front yard discovery provided all of us with an opportunity for reflection, some great family time and a renewed appreciation for the local heritage.
Anna kept looking for other front yard finds. She and Grandpa did find a few flint chips, but another discovery was found the next day while hiking – Anna found a small flint thumb-scraper. Grandpa was impressed.