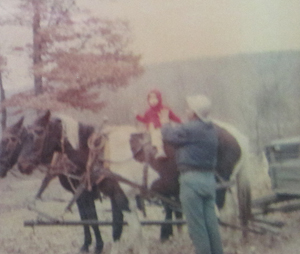 Mark grew up in northeastern Oklahoma. He spent his formative years on Little Lee Creek, an off-the-beaten-path 25-mile long waterway designated as a scenic river in the Ozark Mountains.
At the age of 12, he witnessed the destruction of Little Lee's watershed from landfill pollution and he participated in a state hearing to help raise awareness. This was a defining moment in his life; he felt if more people could have quality outdoor experiences (ah-ha moments), they might make better decisions.  In high school, he assisted with spelunking research that ultimately led to a cave being protected by The Nature Conservancy. As a young adult, he moved to California, where he managed an international youth hostel and organized natural history trips for visitors. Here he met his future wife who was traveling from the Tirol. During college, he focused on international and environmental studies where he completed preliminary research on Bair Island, which led to some of these last remaining wetlands in the San Francisco Bay estuary being protected. After college, he worked in the tech sector as a project manager, event planner, and marketing consultant. He fed his passion for the outdoors by leading monthly hiking, kayaking, and backpacking trips so tech workers could reconnect with nature and their families.
As a father, Mark champions kids and families in nature. He is the founder of GlyphGuy Backpacks. For ten years, he provisioned nature centers and outdoor youth programs, including the National Park Service's Junior Ranger program, with solidly made child-sized packs that were free of lead, mercury, and phthalates. He also established relationships with seventeen park friend groups to develop outreach strategies that generated much-needed funds for interpretive and visitor education services in national and state parks. This energy for helping people to get outside was expressed with –  let's go exploring!
Currently, Mark advances fundraising and program management for the Red Panda Network, a Nepal-based conservation organization committed to protecting red pandas and preserving forest habitat through eco-tourism and the empowerment of local communities. He continues to champion quality outdoor experiences by guiding and leading nature-focused tours.
He lives in Eugene, Oregon, a quirky town that is somewhat northwest of normal. Mark is an avid hiker and enjoys backpacking on the Pacific Crest Trail. He also loves to eat whole food plant-based meals. He guides by the adage hearts first, then minds.
Mark holds a BA in International Relations. He is a Tour Guide/Director Graduate of the International Tour Management Institute (ITMI), a Wilderness First Responder (NOLS), a Certified Interpretive Guide from the National Association for Interpretation (NAI), and is completing his Oregon Master Naturalist certificate from Oregon State University.