Your organization has growing pains. I can help. I work well in the office or remotely and am interested in projects of any size. I flourish on campaigns that embolden scientific literacy, conserves wildlife, advances environmental awareness, and makes the world healthier.
▸ Contact me: mark@letsgoexploring.com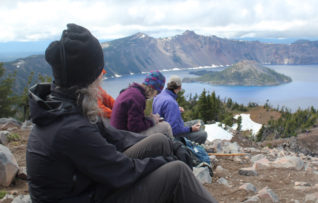 Tour Directing/ Guiding
I don't just visit a destination through a bus window; I like to get outside and peel back that top layer to discover the meanings underneath. What's the natural and cultural history? Who lives here? What's the story? Why should we care about this place?
I offer professional guiding (development and leading) services for experiential education organizations and travel businesses with customers who are active, live life with gusto, value spontaneity, and thrive on flexibility.
The image is a trip I led to Crater Lake National Park, Oregon.
---
Marketing, Outreach & Development
I have a professional background in marketing, project management, funnel optimization, and interpretive messaging. I help travel and outdoor interpretive organizations maximize customer engagement. I can also create development strategies and manage your events.
Here are some colorful examples of my work for travel and park groups who sought to connect the value their resource with the audience. These images (shown as embroidered patches) also provided a return on investment.
---
Clients:
Red Panda Network
National Park Service, Junior Ranger Program
California State Parks
Appalachian Trail Conservancy
Big Basin Redwoods State Park Centennial
Point Reyes National Seashore Association
Santa Clara Valley Science & Engineering Fair Association
Sequoia Natural History Association (now Sequoia Parks Conservancy)
Sierra State Parks Foundation
Additional Clients:
Angel Island Association, Boosters of Old Town San Diego State Historic Park, Calaveras Big Trees Association, Galena Creek Recreation Area, Mount Rainier Guest Services, Pine Ridge Association, Sand Harbor Nevada State Park, San Mateo Coast Natural History Association.