Below are some of the upcoming trips I'm leading. As a freelance tour director and interpretive guide, I help active travelers connect with amazing places through hands-on experiences and by becoming part of the local story.
---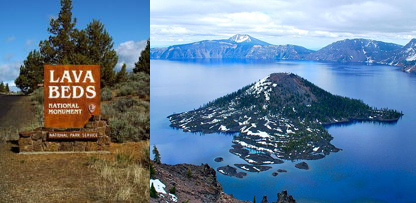 Lava Beds & Crater Lake Autumnal Equinox

Group: Obsidians
Trip Type: Day Hiking & Car Camping
Timeframe: Fall, 2018
Duration: 4 Days
Hiking Distance: 12+ Miles
Trip is FULL
> Find out more and register at Obsidians.org
This is a 4 day, 3 night trip to the Lava Beds National Monument & Crater Lake National Parks. Lava Bed's two main attractions are the historical sites of the Modoc War and exploring up to twenty the lava tube caves. Most of the caves have ladders and walkways. Some will involve crawling, stooping through low sections, and walking across rough floors. At Crater Lake, we will enjoy stunning views from the western rim. Then celebrate the Autumnal Equinox with dinner at the Crater Lake Lodge. The final day we'll visit Mount Scott, the only location where the entire lake will fit into a regular camera's viewfinder. Expect bright nights as a Harvest Moon will be approaching with each evening.
---
Walking Scandalous San Francisco
Group: Obsidians
Trip Type: Urban Hiking
Timeframe: Fall, 2018
Duration: 5-days
Hiking Distance: 12 miles
Registation Coming Soon
This is a 4 day active walking exploration of scandalous San Francisco, from its wild and lusty frontier days, notorious prison, to the free speech battles of angst-laden poets. We'll also enjoy some outrageous theater featuring some really big hats! There will be ample walking opportunities to enjoy beautiful vistas, historic neighborhoods, and exploring this world-class city.
---
Walking Portland's Wicked Side
Group: Obsidians
Trip Type: Day-Hiking
Timeframe: Fall, 2018
Duration: 1-day
Hiking Distance: 4 miles
Coming Soon – Obsidians.org
This is a historic walk of downtown Portland's wicked past.
Portland is now home to swank eateries, posh coffee shops, and a lively urban scene, but at one time it was a wild seaport town with a wicked and lusty underworld. For decades, weathered sea captains bartered in blood money for shanghaied recruits and seedy saloon grifters preyed on freshly arrived tenderfoots from the east. Portland was a place where rotgut whiskey flowed freely, bordellos floated on the Willamette, votes could be bought for a pint of beer, saloons numbered 1 for every 40 people, murder was common, and corruption was a way of life. We will uncover some of these stories while walking through modern Portland.