I guide for companies and organizations who inspire connections and travel with a purpose. Sometimes my adventures are slightly offbeat, but they're always experiential and memorable. I specialize in excursions and tours that are active, educational, and transformational.
---
Burning Bright in Portland With Your Grandchild
Group: Road Scholar
Trip Type: Tour, Intergenerational
Timeframe: Summer, 2018
Duration: 6-days
> Find out more and register at RoadScholar.org
Erupting volcanoes. Blacksmithing. Outdoor cooking. Glassblowing. Fire has countless uses and incarnations and has been paramount to our way of life since the beginning of our time. You and your grandchild will spark your desire to safely learn more about fire through interactive experiences with professional firefighters, survivalists, welders and fire dancers. Discover how fire can create a delicate piece of artwork, as well as destroy entire forests and cities. Learn how to survive in the remote wilderness, and discover the inner workings of a city's fire engine. Together with your grandchild, finally have the chance to play with fire as you discover why nothing can hold a candle to this learning adventure.
---
Exploring Central Oregon

Group: Obsidians
Trip Type: Hiking & Camping
Timeframe: Summer, 2018
Duration: 4-days
Hiking Distance: 14 miles
Trip is FULL
> Find out more at Obsidians.org
This is a 4-day exploration of central Oregon's rich cultural heritage, dynamic geology, and the majestic night sky.
DAY 1:
We start the trip driving to the picturesque 80-foot side-by-side Paulina Creek Falls in the Newberry National Volcanic Monument. At Newberry, we'll hike for several hours then drive to the Hole-in-the-Ground, a mile wide and 500-feet deep maar (a volcanic explosion crater) to hike into the crater and walk the circumference if possible.
DAY 2:
The next morning we'll rise early and drive a short distance to the Fort Rock State Park for a visit to its famous cave. Public visits to the cave are rarely offered and only with a park interpreter. This National Heritage cave is the site of an archaeological discovery of several sagebrush bark sandals dated to be 9,000 to 11,000-years old. About lunchtime, we'll stop by the Fort Rock Homestead Museum, a collection of original homestead era (the early 1900s) buildings. Then we drive along the lava fields to Derrick Cave, a 30 feet high, 50 feet wide, and 1/4 mile long lava tube with several illuminating skylights. In the afternoon we drive to the BLM campground, and if the nearby fire tower is open, enjoy a birds-eye view of the high desert. That evening enjoy stargazing under a new moon.
DAY 3:
Explore Crack-in-the-Ground and hike this volcanic fissure which is about 2 miles long and up to 30-feet deep. That afternoon we drive several hours through Oregon's Outback on hard-pack and paved roads to the University of Oregon's Pine Mountain Observatory (PMO) for an evening of star watching. The evening star show starts at 9 pm; schedule allowing, visitors are provided with a tour of the large telescopes, which includes a refurbished 15-inch scope! Plan on staying up late.
DAY 4:
The final morning we'll sleep in and hit the road at 10 am. Those who wish to head directly back are welcome to, the rest are welcome to visit several sites that are just off the highway: the High Desert Museum, Lava Lands Visitor Center & Lava Butte, and Lava River Cave. Coming over Willamette Pass we'll stop for a stretch break at Salt Creek Falls before arriving home.
---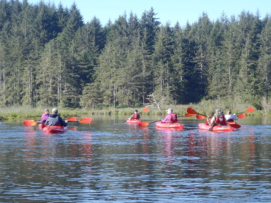 Natural History of Central Oregon's Coast

Group: Obsidians
Trip Type: Day Hiking, Car Camping, Kayaking
Timeframe: Summer, 2018
Duration: 2 Days
Hiking Distance: 6 Miles
Trip is FULL
> Find out more and register at Obsidians.org
This is an exploration of the beauty and natural history along Oregon's central coast. We will spend Sunday hiking in the magnificent Cape Perpetua headland, on Monday we'll be kayaking on the peaceful and picturesque Beaver Creek.
---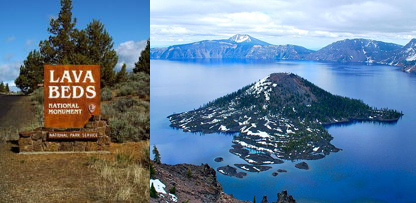 Lava Beds & Crater Lake Autumnal Equinox

Group: Obsidians
Trip Type: Day Hiking & Car Camping
Timeframe: Fall, 2018
Duration: 4 Days
Hiking Distance: 12+ Miles
Trip is FULL
> Find out more and register at Obsidians.org
This is a 4 day, 3 night trip to the Lava Beds National Monument & Crater Lake National Parks. Lava Bed's two main attractions are the historical sites of the Modoc War and exploring up to twenty the lava tube caves. Most of the caves have ladders and walkways. Some will involve crawling, stooping through low sections, and walking across rough floors. At Crater Lake, we will enjoy stunning views from the western rim. Then celebrate the Autumnal Equinox with dinner at the Crater Lake Lodge. The final day we'll visit Mount Scott, the only location where the entire lake will fit into a regular camera's view finder. Expect bright nights as a Harvest Moon will be approaching with each evening.
---
Walking in Portland's Wicked Side
Group: Obsidians
Trip Type: Day-Hiking
Timeframe: Fall, 2018
Duration: 1-day
Hiking Distance: 4 miles
Coming Soon –  Obsidians.org
This is a historic walk of downtown Portland's wicked past.
Portland is now home to swank eateries, posh coffee shops, and a lively urban scene, but at one time it was a wild seaport town with a wicked and lusty underworld. For decades, weathered sea captains bartered in blood money for shanghaied recruits and seedy saloon grifters preyed on freshly arrived tenderfoots from the east. Portland was a place where rotgut whiskey flowed freely, bordellos floated on the Willamette, votes could be bought for a pint of beer, saloons numbered 1 for every 40 people, murder was common, and corruption was a way of life.
Everyone on this trip will help with digging up old stories, finding locations of former saloons, and trying to peel back the facade to reveal Portland's colorful history underneath. We'll also be looking at the cities modern side and artwork.
---
Scandalous San Francisco
Group: Obsidians
Trip Type: Urban Hiking
Timeframe: Fall, 2018
Duration: 5-days
Hiking Distance: 12 miles
Coming Soon – Obsidians.org
This is a 5 day (4 nights) active walking exploration of scandalous San Francisco, from its wild and lusty frontier days, notorious prison, to the free speech battles of angst-laden poets. We'll also enjoy some outrageous theater with really big hats! There will be ample walking opportunities to enjoy beautiful vistas, historic neighborhoods, and exploring this world-class city. The trip starts and ends in San Francisco at the clean, affordable, and centrally located Fort Mason Hostel.
DAY 1:
Arrive in San Francisco on your own schedule.
DAY 2:
Start the day with a complimentary breakfast at the hostel, then enjoy a cable car ride across town to Market Street. At Union Square we'll begin walking the Barbary Coast Trail, a four-mile journey through San Francisco's gold rush where people were shanghaied, gambling was the currency, and two dogs were celebrities. We'll explore Chinatown, see where the American Gold Rush started, and walk in the footsteps of Jack Kerouac, or at least see where he raised a glass. We'll spend some time in the famous City Lights Bookstore where it and the book "Howl" was the center of a free-speech battle. Late afternoon is free time. That evening catch a show of the saucy musical review Beach Blanket Babylon.
DAY 3:
Enjoy a relaxed morning. In the late morning, we'll walk garden-lined walkways and seek out hidden stairways. Our route will cross Nob, Telegraph, and Russian Hill. We will visit the Cable Car Museum. That evening we might visit the bizarrely campy, yet entertaining Polynesian-themed Tonga Room. Late afternoon is free time.
DAY 4:
The plan is to visit Alcatraz in the late morning, returning in the early afternoon. The rest of the day is open.
DAY 5:
Open, free time. Leave on own schedule.