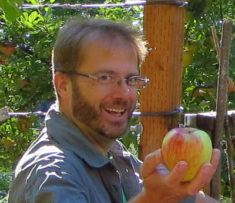 Mark Hougardy enjoys helping people create their own connection with the outdoors, cultural sites, and historic places.
His roots are from eastern Oklahoma and the beautiful Ozark Mountains. As a child, he witnessed the destruction of a scenic river from pollution and participated in a state hearing to help to raise awareness. In high school, he assisted with spelunking research that led to a cave being protected by The Nature Conservancy.
Mark often hiked and camped where he became very "grubby," and he obtained his trail name "Grubb."
In college, he worked at a hostel, guided nature tours, and educational outings. He later led trips for overscheduled parents to get outside with "Hiking for Families" community programs.
As a father, Mark championed kids and families in nature. He is the founder of GlyphGuy Backpacks and for ten years provisioned nature centers and outdoor youth programs, including the National Park Service's Junior Ranger program, with safe and solidly made child-sized packs. He also worked with seventeen national & state park friend groups to develop outreach and marketing strategies to generate funding for interpretive programs and visitor education.
Mark has worked as a project manager and consulted as an enterprise level marketer. Currently, Mark is a development consultant with a Nepal-based conservation organization committed to protecting red pandas and preserving forest habitat through the empowerment of local communities.
He lives in Oregon with his family and is an avid hiker and backpacker. Mark eats whole food plant-based meals.  He frequently leads trips as a volunteer with the Obsidians.
Mark holds a BA in International Relations. He is a Tour Guide/Director Graduate of the International Tour Management Institute, a Certified Interpretive Guide from the National Association for Interpretation, an Oregon Master Naturalist from Oregon State University, and NOLS Graduate as a Wilderness First Responder.